Online advertising for businesses is one of the most efficient and affordable ways to reach new customers. Paid advertisement through online channels, such as Google AdWords and Facebook Ads, and LinkedIn can help plumbers generate leads and grow their business. In this blog post, we will explore the benefits of online paid advertising for plumbers. We will also provide tips on how to create a successful paid advertising campaign. Read on to learn more!
What is Pay-Per-Click (PPC)?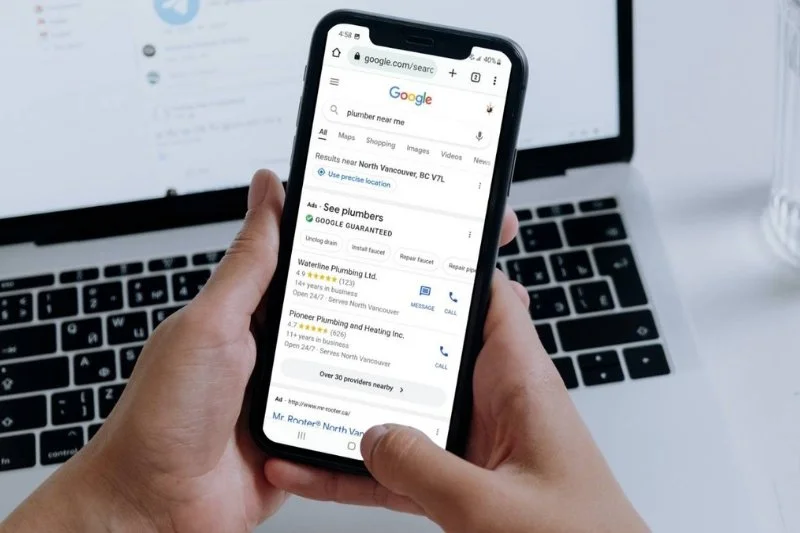 PPC, or pay-per-click, is an advertising model in which businesses bid on keywords in order to have their ads displayed in search engine results pages. When a user clicks on an ad, the business pays the advertising platform a small fee.
Note:
PPC is a popular way to generate leads because it allows businesses to target their ads to users who are actively searching for products or services like theirs. 
Additionally, PPC campaigns can be customized to target specific demographics, locations, and even devices. As a result, businesses can use PPC to efficiently reach their target customers with highly relevant ads.
Types of PPC ads
Search Ads
Search ads are a type of online advertising that helps businesses to promote their products or services through the use of keywords. When someone searches for a keyword that is related to your business, your ad may appear in the search results. Search ads can be a great way to reach potential customers who are already interested in what you have to offer.
Important to Remember:
Search ads are not the same as organic search results. Search ads are paid advertisements, while organic search results are based on the relevance of the content to the user's search query.
Display Ads
Display ads are graphical ads that appear on web pages and apps. They can come in a variety of sizes, but they are typically rectangular. Display ads can include static images, videos, or animation. They can also be interactive, allowing users to engage with the ad instead of simply viewing it.
Display ads are typically served through ad networks, which match them with appropriate websites and apps based on factors like the content of the site and the demographics of the users. When a user visits a site or app that is part of an ad network, the ad network will serve them an ad from one of its advertisers.
Note:
Display ads are a popular way for plumbing businesses to reach potential customers, and they can be effective in raising brand awareness or promoting a service.
Social media ads are a type of online advertising that allows plumbing businesses to promote their services on social media platforms such as Facebook, Twitter, and LinkedIn. There are two main types of social media ads: sponsored posts and display ads. Sponsored posts are basically advertisements masquerading as regular posts from friends or family members, while display ads are more traditional banner advertisements that appear in the sidebars or newsfeeds of social media sites.
Both types of social media ads can be effective in promoting a business, but it is important to choose the right type of ad for the specific social media platform you are using. For example, Facebook users are more likely to respond positively to sponsored posts that feature personal endorsements from friends, while Twitter users are more likely to notice and click on display ads that feature attention-grabbing images or headlines.
How is PPC beneficial for plumbers?
For plumbing businesses, PPC can be an especially beneficial way to attract new customers. One of the key advantages of PPC is that it allows businesses to target potential customers based on specific criteria, such as location or search keywords.
This means that plumbers who use PPC can ensure that their ads are seen by people who are actually in the market for their services. In addition, PPC is a relatively cost-effective form of advertising, making it a good option for businesses with limited marketing budgets. When used effectively, PPC can be a powerful tool for driving new business and growing a plumbing company.
4 Best PPC Practises
As a business owner, you're always looking for ways to increase profits and grow your company. One of the quickest and easiest ways to do this is by implementing a pay-per-click (PPC) campaign. But before you launch your campaign, there are a few best practices you should keep in mind. Here are four tips that will help you get the most out of your PPC campaign when targeting plumbing customers.
Expanding Negative Keyword List
As any experienced marketer knows, Pay-Per-Click (PPC) campaigns require a great deal of care and attention in order to be successful. One of the most important aspects of managing a PPC campaign is building an effective keyword list. Keywords must be carefully researched and selected in order to ensure that ads are being shown to the right audience. However, it is also important to actively expand the negative keyword list. Negative keywords help to ensure that your ads are not being shown to users who are not interested in your product or service. As an example, you don't want your ads to appear when someone is searching for "diy plumbing basics". When people search for this keyword, they are not looking for plumbing services, but tips on how to fix it themselves.
Note:
Adding new negative keywords on a regular basis can help to improve the performance of your PPC campaign and increase your return on investment.
One Service or Location per Campaign
When it comes to creating a successful PPC campaign, plumbing companies should focus on just one service or location per campaign. By zeroing in on a specific target, businesses can create ads that are more relevant to their audience and more likely to result in conversions. Additionally, businesses can track the performance of their ads more effectively and make necessary adjustments to maximize their return on investment.
By focusing on a single service or location, businesses can avoid wasting money on ads that generate little to no interest from potential customers. When it comes to PPC campaigns, less is definitely more. So if you're looking to get the most out of your advertising budget, be sure to focus your efforts on just one service or location per campaign.
Understand the Average Cost per Click
The Average Cost Per Click (CPC) is a key metric used by plumbing companies to measure the success of their online advertising campaigns. CPC provides a way to compare the cost of ads across different platforms and allows businesses to track the return on investment for their ad spend. While CPC can be a useful metric, it is important to understand its limitations.
For example, CPC does not take into account the quality of traffic that is generated by an ad or the conversion rate of that traffic. As a result, CPC should be used in conjunction with other metrics, such as click-through rate, to get a complete picture of an advertising campaign's performance.
Conversion Tracking
When running a pay-per-click (PPC) campaign, it is important to track conversions in order to gauge the success of the campaign. A conversion occurs when a user clicks on an ad and then takes a desired action, such as making a purchase or filling out a contact form. Plumbing companies can use conversion tracking to see which ad campaigns are resulting in the most leads and sales. This information can then be used to adjust the campaigns accordingly. In addition, conversion tracking can help to identify which keywords are driving the most traffic and which ads are being clicked on the most. By understanding which elements of the campaign are performing well, plumbing companies can make adjustments to increase the overall effectiveness of their PPC campaigns.
Why use professional PPC management for plumbers?
Managing a PPC campaign can be a time-consuming and complex task. There are many factors to consider, such as keyword research, ad copywriting, and bid management. As a result, it is advisable to use a professional PPC management service. By entrusting your PPC campaign to an experienced team, you can free up your time to focus on other areas of your business while still generating high-quality leads.
GuaranteedSEO understands that as a plumber, your time is best spent servicing clients and growing your business, not managing a complex and ever-changing PPC campaign. That's why we offer PPC management services specifically designed for plumbers.
We'll work with you to develop an effective PPC strategy that targets the right keywords and produces quality leads. And we'll continually monitor and optimize your campaign to ensure that it's performing at its best.
With our help, you can focus on what you do best and leave the PPC management to us. Contact GuaranteedSEO today to learn more about our PPC services for plumbers.