Why should you care about customer reviews? The reasons are endless, but for starters they increase conversions & rankings as well as help customers through the sales funnel. It may seem difficult, particularly if you're starting from scratch, but the long term gains of getting a review system in place are huge. Still not convinced? In that case, we have outlined below the main reasons why you need customer reviews!
Reason 1 – Customers Convert When They See Reviews
So many studies have proven customer reviews work it's tough to know where to start. A study by review specialists Reevoo found 88% of consumers consult reviews before making a purchase. Iperceptions found 63% of consumers are more likely to make a purchase from a site that has customer reviews. To put the final statistical nail in the coffin of the benefits of customer reviews… Bazaarvoice's Conversation Index found site visitors who interact with both reviews as well as customer questions & answers are 105% more likely to purchase while visiting, and spend 11% more than visitors who don't interact with User Generated Content (UGC).
Reason 2 – Customer Reviews Will Benefit SEO
With Google's Hummingbird update in 2013, the old mantra of 'content is king' has never been more pertinent. Adding user generated content on your site or your Google plus page is a phenomenal method to attain new, fresh and unique content. Google in turn will reward you with increased rankings for this content. A trend has also begun online where consumers researching a business will search: 'product name' + review. Already having reviews on your site or Google plus page will increase your chances of ranking for these search terms.
Reason 3 – Review Content Will Increase Click Through Rate
Google in 2013 released review ad extensions for PPC ads. This means in your ad copy you can now include review data. (How to guide here) Using review or seller rating data let's your customers know how great a job you're doing. It asserts in their mind that you're a reputable business and are there to help them. For example, see how the first search result below with review data stands out: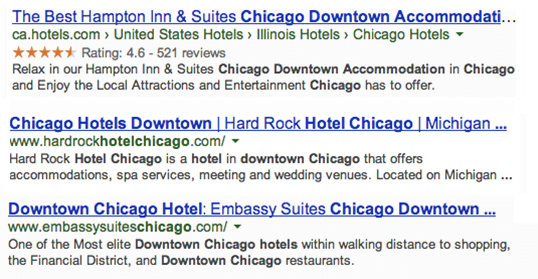 Reason 4 – Bad Reviews Can Be Good News
Many small to medium businesses fear bad reviews, posts, and comments. Fear no more! Another amazing statistic from Reevoo found bad reviews can increase conversion by 67%. Actively replying to bad reviews and looking to resolve a situation illustrates to your new potential customers that you care about your clients. Replying to bad reviews and suggesting to resolve situations offline can mitigate longer threads forming. DISCLAIMER: Obviously too many bad reviews will not be a good thing for your business' reputation!
Reason 5 – You Will Be Reviewed!
Your clients will review your products or services whether you want it or not. Even if reviews are not posted to your site, there are countless platforms such as Yelp, Trip Advisor, and social media sites where reviews will appear. You have two choices: Bury your head in the non-review sand or have an active strategy to encourage positive reviews and manage negative reviews. There are over 525million reviews on Trip Advisor! Reviews are here to stay. Make them work for you.
Bonus reason: using review tools can help you know your customer better
All business owners want to have insight into their customer and what better way than to get the customers to provide you feedback. One great way to do this is to use a tool or service that actively solicits and curates customer feedback. Some example of such services and tools are BirdsEye, TrustPilot and 5StarReviews, but there are many others. With these tools, you can start actively sending requests for a review to every customer. You can start with a basic Star rating (one to five stars), solicit feedback, address poor reviews proactively (before the person goes on YELP or Google My Business and blasts you because they feel you are not listening), post good reviews on your site and ask for the user to provide feedback on 3rd party sites such as Google, Facebook, Home Advisor and others. Customers who feel you are listening and are interested in what they say are your best source of information about what you are doing right and what you are doing wrong. Don't kid yourself, no business is perfect, we all have things we can and should improve and our customers know it!
For information on how reviews can benefit your business or how to improve other facets of your online marketing please contact Guaranteed SEO.