5 Holiday 2020 Tips for Canadian Retailers
No doubt this holiday shopping season is like no other before. Retailers all over Canada are wondering how to prepare, and what shopping behaviour will look like. The pandemic has changed everyone's behaviour, this holiday season's shopping is the biggest example. 65% of Canadians that are planning to shop this season, say that they will shop online during the holidays.
With a change in shopping behaviour comes a change in the role of the store on the street, and the increased heavy lifting that retail sites must now do. A lot of work needs to go into preparing your online site. Make sure that you and your site are ready. Black Friday, Cyber Monday, and Boxing Day are going to take on a whole different feel. As a retailer, you need to prepare for a different kind of marauding hoard.
The Online Holiday Rush
Instead of people clamouring to get through the doors of a store, they may all be clamouring onto your website. This year, even with stores open, a full one-third of people who are usually in-store shoppers will now be online. Are you ready?
Every shopper and every shopping experience are critical to winning loyal customers. Your site should be ready to deliver a great experience, seamlessly and easily. Details like making sure your listings and supply chains are up-to-date, and that searching for items is easy and intuitive. Online shoppers have pre-conceived notions about potential problems that can occur online, based on real past experiences. Many report additional difficulties during the pandemic, from out-of-stock items to delivery difficulties.
Be aware of your customer's experience and address those issues before they happen. Your intranet and back office need to be as ready as your front-end site.

Don't wait. Shopping for the Holidays has Already Begun
This is not the holiday for last-minute shopping. Many people are preparing early, partly due to not being as occupied with the daily grind, partly due to shopping smarter to make dollars stretch. Additionally, the pressure for meeting the expectations of loved ones and family members cause them to worry about an item going out of stock. As early as September, more than one-quarter of Canadians had begun holiday shopping.
Logistical companies are more challenged this year than ever before. Delivering goods and services during other times of the year, is typically pretty fast, but during the 2020 holiday season, people are trying to stay ahead of the rush. Canadians are shopping and ordering early, and mostly online.
Your Online Site Preparation
Are you paying attention to current search patterns? Certain search criteria and search terms have dramatically increased as we enter the holidays. Google Analytics is a useful and necessary tool. This information reveals actions you can take, not unlike those strategies used to attract the attention of purchasers in a traditional in-store shopping experience. What do you know about what your clients search for when they are online?
Recent research has revealed that you should not be expecting a "peak." Instead, look for a "curve." Interest is spread over a longer period. A day that had been particularly important in past years, may now be as much as a month-long. This season may be a good time for you to realize that, if you were to "up-your-game" online, over the entire season, your marketing efforts may pay off in the long-term.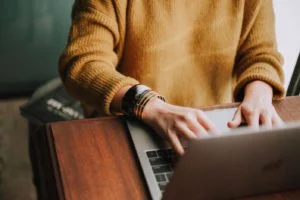 The Game Has Changed
This year both online shopping and customer visits will be necessary. However, the roles of these two worlds have changed. There is a dramatic increase in customers that prepare online in advance of their store visit. Your opportunity to win them over and sell to them is going to be online before they visit your store. The customer will enter your store with their decision already made. They may have even purchased ahead of time and are simply coming to pick the item up. You may find that shoppers aren't even entering your store at all but preferring to drive up for curbside pickup or click-and-collect.
Consider that since shoppers can search online, they aren't just searching for what they want, but where they want to buy it. They may be easily able to determine the proximity of stores, or other identify items that connect with other items. Locational geo-fencing (GPS-based), or Omnichannel strategies allow marketing and customer services to not only exist on the same channel but work in tandem to reveal opportunities and to enhance and streamline the shopper's experience.
To attract customers, you need to be visible. That means your site has to be searchable and immediate when people are online shopping. This visibility needs to be relevant to their search.
Holiday Shopping Opportunities Will Be Dynamic and Ever-Changing
Online shoppers are more open to new brands. The shopper's options are greater online, and so it is easier to explore some unconventional options. An online shopper is more likely to explore a breadth of products or brands rather than explore each in-depth.
There will be more focus on value this season because of COVID-19. Searching for deals and comparing the best prices is not new, but the ability and ease for shoppers to do it has been streamlined and improved markedly. Searching for the most affordable choice is up 60% this year but finding that perfect gift is also a focus of online shoppers. At the same time, you can learn more about your customers' preferences and shopping habits like never before.
Your Fellow Canadian is a Loyal Local Community Member
During these pandemic times, Canadians are choosing to show support for their community by shopping locally. Search criteria showing "shop local Canada" is up 190%!
Guaranteed SEO is in a perfect position to help you, our fellow Canadian, leverage this trend and achieve success this holiday season. Call us and let us explain how we can. This period of change may be the most challenging in our lives. We can help you meet that challenge and use our knowledge and experience to propel your e-commerce business.
Looking for help with your online sales activity for the holidays and beyond, call GuaranteedSEO at 1-866-588-8282.