Have you ever heard about Google Ads?
In our opinion, Google Ads is one of the best decisions you can make for your business.
How many times a day do you use Google to search for a service, product or even for ideas/inspiration? I am betting that a minimum of 3 times a day falls short…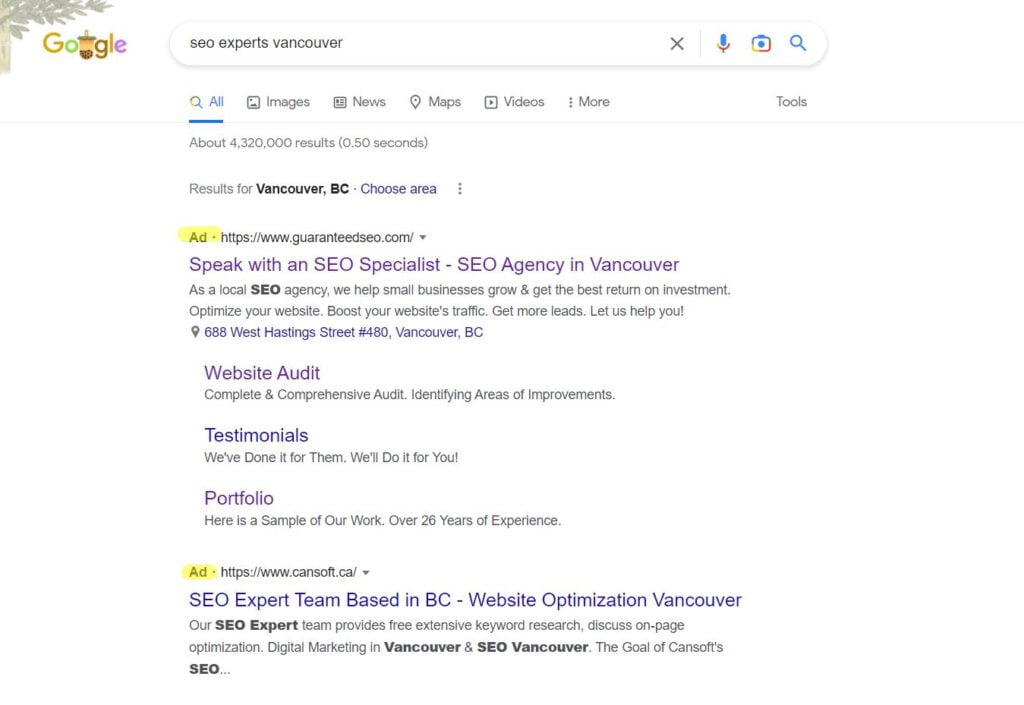 You have probably been exposed to Google Ads yourself. Usually, the first 3 results you see are sponsored results (Google Ads doing its magic). Google Ads is a powerful advertising platform that allows businesses to promote their products and services to a highly targeted audience. By using relevant keywords, businesses can ensure that their ads are seen by users who are actively searching for products and services related to their business. When executed effectively, Google Ads can be a powerful tool for driving traffic and increasing sales for your business.
The power of Google Ads doesn't end there, it goes beyond search results. How often do you see ads while reading an article online, reading the news, or watching your favourite tutorial video on YouTube? Yes, all of it is Google Ads. Who would have thought, huh? Were you aware of the fact that these are all Google Ads?

Google Ads is more than just placing ads on Google.com. With Google Ads, you get the power to reach your target audience in a variety of different ways, through different channels and at different points in the sales funnel.
Here is a quick rundown of what Google Ads are, how they work, and how YOU can use them to take your business to the next level!
What are Google Ads?
Google Ads is a paid online advertising platform offered by our dearest friend, Google.
Google's advertising platform was launched in 2000, only two years after the launch of Google.com. Initially known as Google Adwords, they rebranded to Google Ads in 2018.

According to Ramaswamy, Senior Vice President, Ads & Commerce of Google, the rebranding effort was driven by Google's desire to simplify its brands and product offerings for business owners and marketers. With the new Google Ads platform, you get the full range of Google's advertising capabilities, on Google.com and across all other properties, partner sites and apps, all in one place. In addition to reaching users through search and display ads, Google Ads also offers other features such as product listing ads, video ads, and app ads. Each of these ad formats has its own unique features and targeting options, allowing businesses to reach their audience in the most effective way possible.
The rebranding was an effort to help marketers connect with billions of users, whether they are searching for information on Google, watching videos on YouTube, discovering new locations on Google Maps, finding apps on Google Play, or simply browsing content across the web, and more (Ramaswamy, 2018).
For small business owners, with the new rebranding in 2018, Google Ads introduced Smart Campaigns. They were built specifically for business owners with little time to spare and a lot to do. With Google's learning technology doing most of the heavy lifting, you can have Smart Campaigns running in as little as 15 – 30 minutes. Just a few inputs from your end, and then Google takes care of the rest. Even if you don't have a website, you can start running ads using your Google My Business listing. For more details about smart campaigns scroll down.
Why Google Ads?
Have you noticed that we don't search anymore, we "google" it.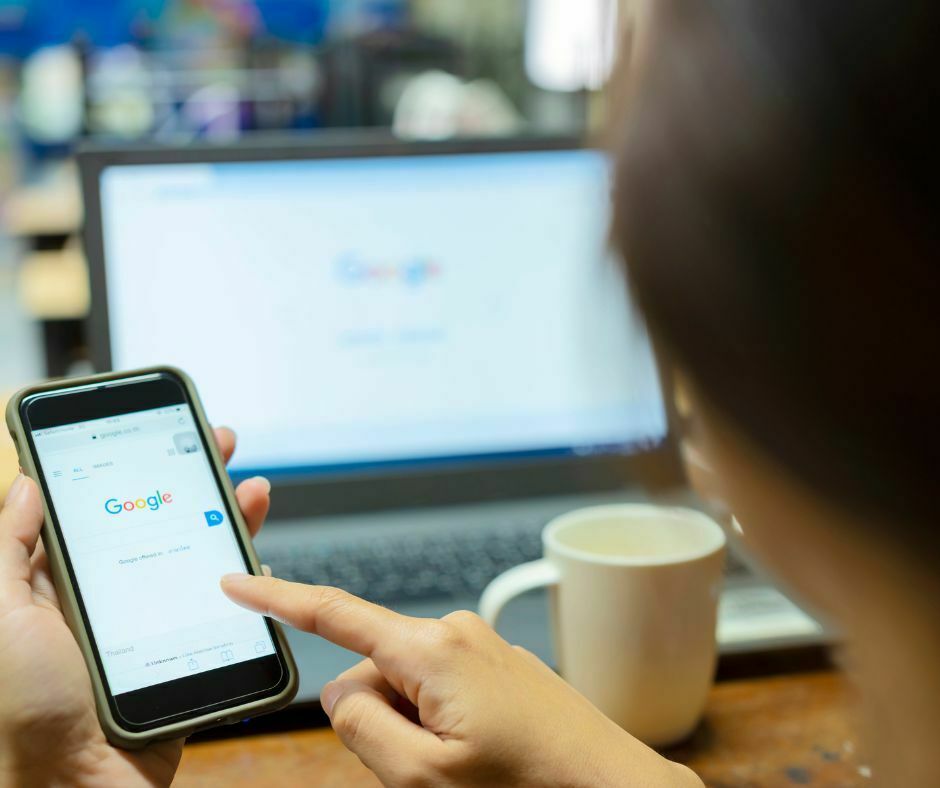 Google is where people search for what to do, where to go and what to buy. So, why not take advantage of this?
Any money you spend on ads to reach your target audience should be spent wisely, in the right place. If done correctly, your ad can appear on Google at the exact moment someone is looking for the products or services you offer.
Here are some interesting statistics that you should know:
As of December 2022, Google, the industry leader, held a share of about 84.08% of the global market share. While Bing held a stake of just under 8.95%, followed by Yahoo with a 2.55% market share at the time (Statista, 2022)
In terms of search volume, Google does not publicly release statistics, however, it is estimated that Google processed approximately 63,000 search queries every second, which translates to over 5.6 billion searches per day in 2021 (Prater, 2021)
The average person conducts between 3 to 4 searches each day. (Prater, 2021)
In 2021 in the United States, Google assisted in driving approximately 2.4 billion direct connections per month, including phone calls, requests for directions, messages, bookings, and reviews for American businesses (Google, 2022).
With Google Ads under your belt, you can boost your website traffic, receive more leads, and increase in-store visits and online purchases.
How do Google Ads work?
Google Ads auction
A very simple question with a very complex answer. In its core, Google Ads is an auction-based system where businesses/advertisers compete for ad space. Frequently associated with pay-per-click (PPC) bid strategies, where the amount you pay is called the cost-per-click (CPC). What you are going to pay, will be determined by the auction system used and the bidding strategy used*. The inner workings of the Google Ads auction are actually pretty fascinating, and in this section, we will try to explain it so you can understand how Google determines if your ad will show and how much it will cost you.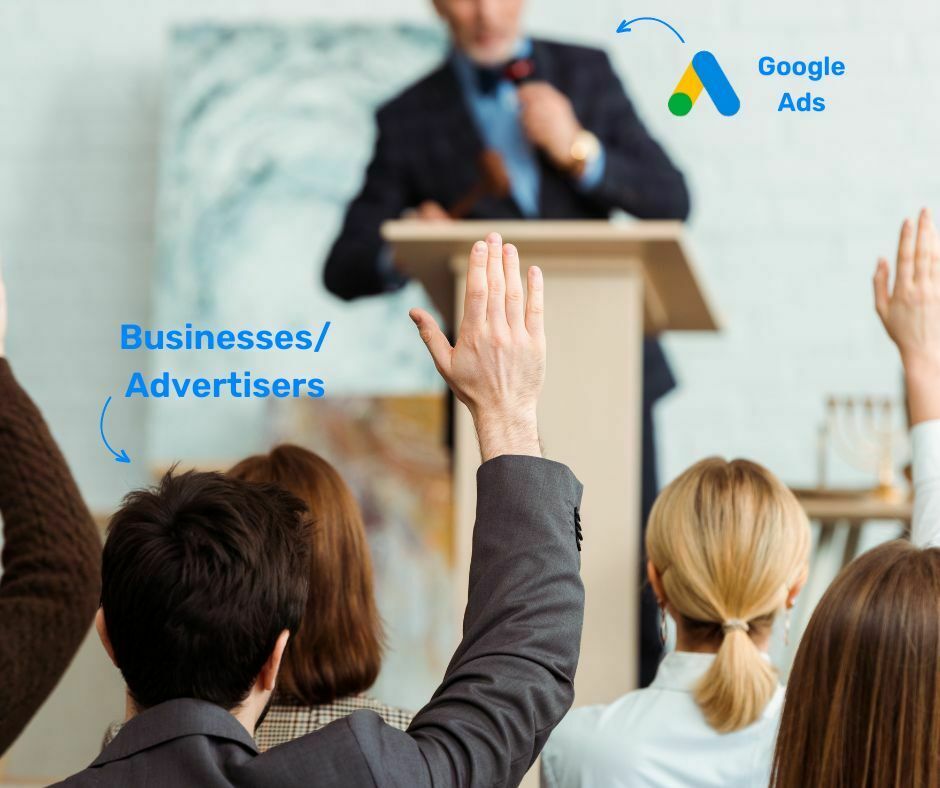 The Google Ads auction is a real-time auction that takes place every time someone does a search on Google. That might sound like a lot of auctions, and while there are millions of auctions happening simultaneously, they're all over in a fraction of a second. The power of Google!
In general, advertisers specify the keyword phrases they want their ads to show up for, and then the bidding starts among other businesses that are targeting the same services/product as you.
For every search query, Google enters all relevant keywords and their associated ads into the auction. The system ignores all ads that are not eligible for the user's location and any disapproved ads. All ads remaining are then assessed based on their Ad Rank.
Once Google has determined which ads are eligible to show up, it decides in what order they should appear in. This order is determined by the ad's Ad rank (see more information below). For each ad in the auction, Google Ads determines its Ad Rank. The higher an advertiser's ad ranks is, the more likely their ad is to show up higher on the page. In the event that an advertiser's ad rank is very low, and they do not meet the threshold for Ad rank, their ads will not be displayed. In Google Ads auctions, advertisers compete for the top spots because a higher position on the search result page means more visibility and clicks for their ads. 
Once Google determines your ad's position, the final element of the auction is determining how much each advertiser will end up paying per click. This is where things can get a little confusing, so bear with us!
What an advertiser will end up paying, is not really their maximum CPC bid. This can vary.
There are two different types of auctions that take place on Google: First Price auctions and Second Price auctions. Depending on the type of auction, what an advertiser will end up paying is calculated differently. Up until recently, all Google Ads were bought through second-price auctions. However, in 2017, Google announced that starting in 2018, certain types of ads would be auctioned with the first price model.
Essentially, first-price auctions happen for most ads in the Display Network and second-price auctions for Search and shopping ads.
What's the difference between these two types of auctions?

In a First Price auction, advertisers essentially bid what they're willing to pay per click – so if your maximum CPC is $5 and you win the auction, you'll pay $5 per click.
In contrast, in a Second Price auction advertisers only pay slightly more than the next highest bidder price. According to Search Engine Journal, in a second-price auction (all search ads auctions), an advertiser's actual CPC can be calculated with the following formula:
Actual CPC = (Ad rank of Advertiser below/Your Quality score) + $0.01
Here is an example of what a Google Ads second-price auction may look like:

Even though Sam has the lowest Maximum Bid of them all, she has the best quality score. Which has led her ads to be in the first position and to pay a lower CPC than Mike. And because the Ad rank's threshold for the query they are competing for is 20, Alex does not even show in the results even when his max bid was the highest of them all.
Why do we want you to understand this?
Even though this is an oversimplified version of what happens in an auction, it is a great example that shows the importance of your ad rank and quality score relative to your budget. Don't feel discouraged if your budget is less than the competition. In most cases, especially for small business owners, it can be more cost-effective to invest time in optimizing your ads than investing more money in increasing your bids.
While the inner workings of Google can be complex and constantly evolving, one thing remains constant: relevance is key!
Whether it's through first price or second price auctions, being relevant to what searchers are looking for will always help you succeed in Google. According to Google themselves, "higher quality ads typically lead to lower costs and more advertising success".
So, what are the factors that influence your ads to get shown & their position?
Short answer, your Ad rank.
Let us explain in more detail. As explained in the previous section, it is a common misconception that the more money you have to spend on Google Ads, the more successful your campaigns will be. In reality, this is not entirely true. Of course, having a larger budget does give you more flexibility and allows you to test different strategies, but it's by no means a guarantee of success. So if you're thinking of starting a Google Ads campaign, don't be discouraged if your budget is relatively small. With the right approach, you can still produce great results.
Google Ads uses a number of factors to choose the most relevant and highest quality ad for the user. By understanding how these factors work, you can optimize your campaigns to improve your chances of success and lower your CPC. With a lower CPC, the more cost-effective your budget can spread.
What is Ad Rank?
Ad Rank is the value that Google uses to determine your ad position (where ads are shown relative to other ads) and whether your ads will show at all. The ad with the highest ad rank will show in the first position in the SERP, followed by the second highest ad rank and so on.
Ad Rank can be calculated using the following formula:

*The additional factors can include Ad Rank thresholds, the competitiveness of the auction, the context of the person's search (for example, the person's location, device, time of search, the nature of the search terms, the other ads and search results that show on the page, and other user signals and attributes) and the expected impact of assets and other ad formats (eg. Ad extensions). But for the purpose of this article, we will explain the two main factors: CPC and quality score.
Why?
Refer to the table above.
You don't necessarily need to have a large advertising budget in Google to win the race. Instead of giving priority to your budget, Google Ads prioritizes the quality and relevance of ads. It is for this reason that experienced advertisers who invest time in optimizing and creating high-quality, tailored ads don't necessarily have to bid as high as those with poorer quality ads. In the case above, an experienced PPC advertiser would advise Mike and Alex to work on optimizing their ads first, and once they have exhausted all opportunities to increase their quality score, they should then increase their bids (or increase the budget if using an automated bidding strategy).
So,
What Is Quality Score?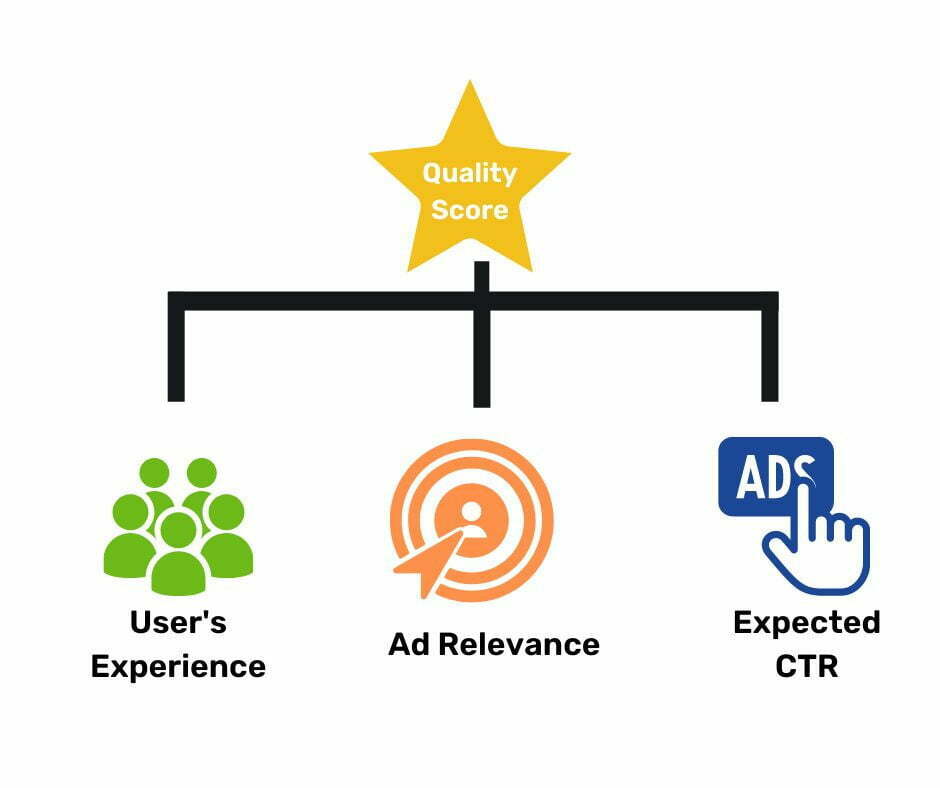 Think of quality score as a diagnostic tool that helps you identify in what areas your ads can be improved.
Quality Score is measured on a scale from 1-10. A higher Quality Score means that your ad and landing page are more relevant and useful to someone searching for the keywords you are targeting, compared to other advertisers. As we saw in the example above, the higher your Quality Score, the less you'll pay per click, and the more likely your ad is to be shown to users. A high Quality Score can lead to a lower cost per click (CPC) and a higher position in the search results. 
*For a new ad, the historical data used to calculate the expected CTR can include information from similar ads, the performance of other ads from the same account, and the overall performance of ads in the same industry or niche.
Mike and Alex should have a look at the quality score of their ads if they want to win the auction.
You can find the quality score of each of your keywords in the Search Keyword tab in your Google Ads dashboard. Just modify the columns to show Quality Score.
So, now that you know the basics of how Google Ads work, let's take a look at the different types of campaigns you can choose from.
Type of Campaigns on Google Ads
Depending on your goal as a business owner or advertisers, you'll need to choose a campaign type that aligns with your marketing goals, brand strategy and budget.
There are 9 different types of campaigns you can choose from: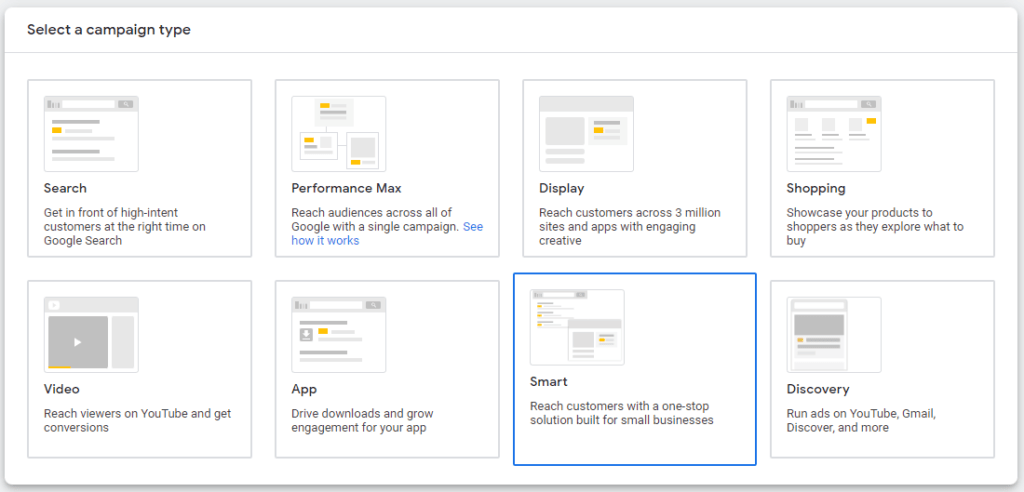 Search Campaign
Search ads are text-based, and are used to target search queries. They appear on the search engine result pages. Usually, the first 3 top results you will see are ads.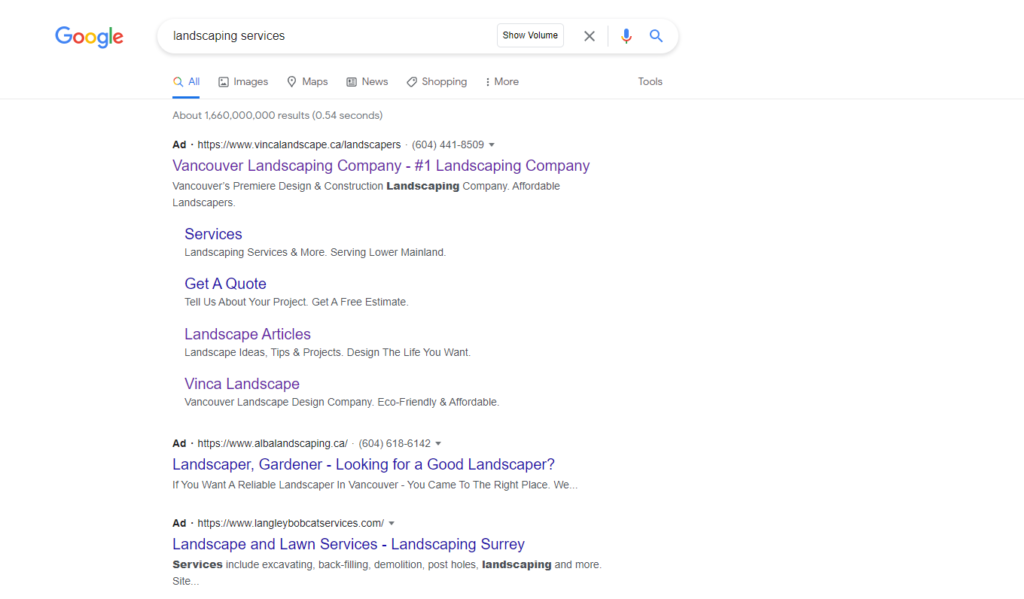 Typically, search ads are "high intent-based" and are used to generate leads and sales. This type of campaign allows advertisers to reach users when they are actively looking on Google for your services or products.
They work best when the services/product you provide is well known and demand for them already exists. They are best for businesses that are trying to increase leads. If your business focuses on introducing a new product or service category that people haven't heard about before, search ads are not for you. You might be better off with a Display or Video campaign
Display Campaign
Display ads are visual ads (Image or video-based). They can show as banners, side images, or videos across websites, videos and apps in the Google Display Network.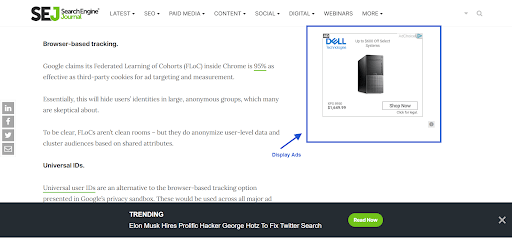 In contrast to search campaigns, in display campaigns is all about who and where you're targeting. You target placements, audiences, and topics rather than keywords.
Display campaigns are used to increase reach, brand awareness and product consideration. This type of campaign appears when users are browsing content online (on websites or apps). While they allow you to target people who are likely to be interested in your products/services, they are not really actively looking for them yet. They are considered to be "low-intent" campaigns.
In general, CPC is cheaper compared to search ads, and impressions are higher than any other type of ads. Display ads are considered to be intrusive, and even spammy looking when you are browsing the web. While most people ignore them, Display ads are one of the best ways to put your products/services out there. One of the best ways you can use display ads is to follow up with people who have previously seen your ads or have interacted with your business. 
We recommend you choose Display ads to complement your search ads and when your objective is to increase brand awareness or for remarketing purposes. Display ads created awareness, but Search might close the deal. 
Video Campaign
Video Ads are essentially Youtube Campaigns. If you have the budget and creative resources available, video ads on YouTube are a great way to reach and convert potential customers. Particularly if your company is one of the ones whose unique product or offering is unknown to most customers. Instead of just telling your audience what your product or service is, you can demonstrate it using video ads.
Why?
Video Ads on YouTube are a powerful marketing tool for businesses looking to expand their reach and target potential customers based on their viewing habits. As the second most visited website in the world, YouTube offers a vast audience for businesses to showcase their unique products or services.
How do video ads work? They function similarly to Display Ads, but rather than images you use videos. You target based on audience and content (topics, placements and display/video keywords"). There are 6 types of video ads you can choose from: skippable in-stream ads, non-skippable in-stream ads, in-feed video ads, bumper ads, outstream ads, and masthead ads.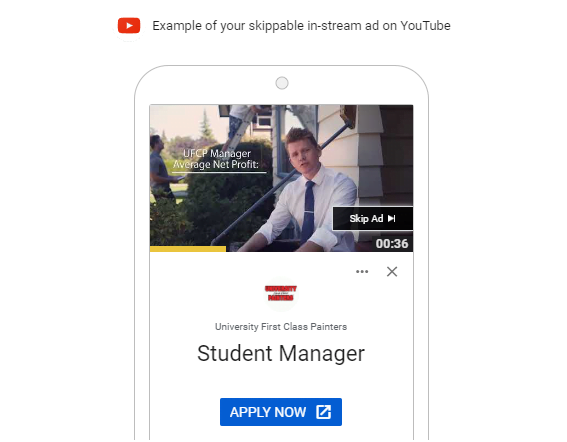 Youtube Ads can be very lucrative. But it's important to note that YouTube Ads require a higher investment compared to search or display campaigns, as they operate on a CPV or CPM bidding strategy rather than PPC.
CPV is a cost-effective way to pay for video ads, where you get charged only when someone watches 30 seconds of your video or the full video if less than 30 seconds, or if they interact with the ad. With CPM, you pay for every thousand times your ad is shown, regardless of whether the viewer engages with it or not. This can be a good option if you want to increase brand awareness and reach a large audience.
Additionally, producing a high-quality and engaging video ad will also require a significant investment.
Despite this, video ads are highly effective for increasing brand awareness, driving conversions, and remarketing to potential customers who have already shown an interest in you.
Have you ever been browsing YouTube, only to see an ad for the exact product you were just looking at? That's remarketing with Video Ads! It's an incredibly effective way to reach potential customers and nurture those who need an extra push to convert. By targeting people who have already shown an interest in what you're selling, you can dramatically increase the chances of making a sale.
All in all, use video campaigns if you have a bigger budget and the video/creative resources in hand to showcase your product/service to potential customers.
Ideal for those with product inventory, and a must for e-commerce websites. Shopping ads appear on search results and on the Google Shopping tab.
Shopping campaigns in Google Ads allow advertisers to promote their products on the SERP by using a product feed. The structure of these campaigns is different and it relies on product groups instead of ad groups, and also other targeting options like location settings and negative keywords to narrow the targeting and improve performance.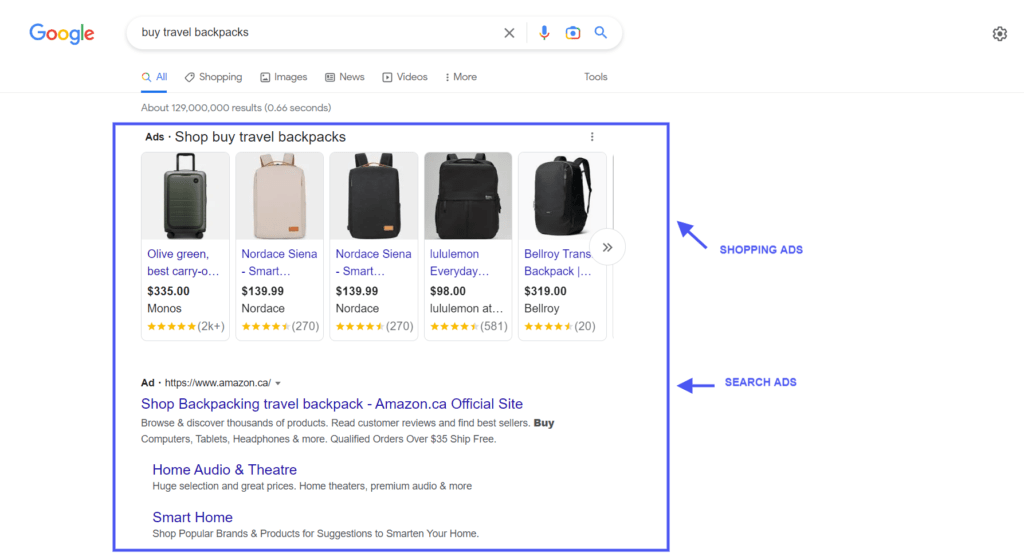 Rather than you creating ads or uploading images on Google's dashboard, the Shopping campaign utilizes the product feed provided by the advertiser in the Google Merchant Center to create and serve the ads on the search engine results pages based on the details provided in the feed. This feed contains all the information about the products such as price, colour, quantity, and more.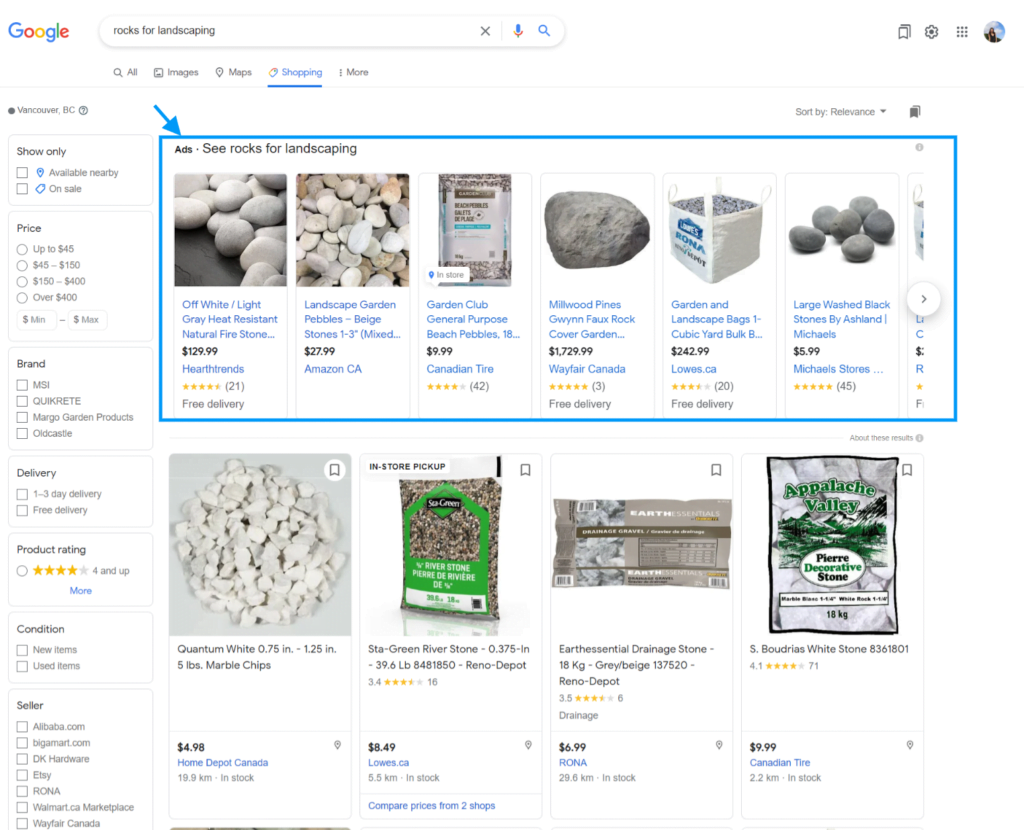 So here is the thing…
The set-up of Shopping Ads requires extra work. If you don't have a Google Merchant Account, you will need to open one and link your existing product database. If you don't have an online inventory, then you will need to create one, then link it to your GMC accounts. Once you link it, it takes 4 to 5 business days for Google to review and approve your products. However, once the initial setup is complete, running shopping ads is relatively easy and your return on investment will be higher.
App campaigns
Are you trying to promote an app? Then app campaigns are you go to campaigns.
Google App Campaigns are a type of advertising campaign that helps businesses promote their mobile apps on various platforms such as Google Search, Google Play, YouTube, and the Google Display Network. These campaigns are designed to help businesses drive more app installs and in-app conversions.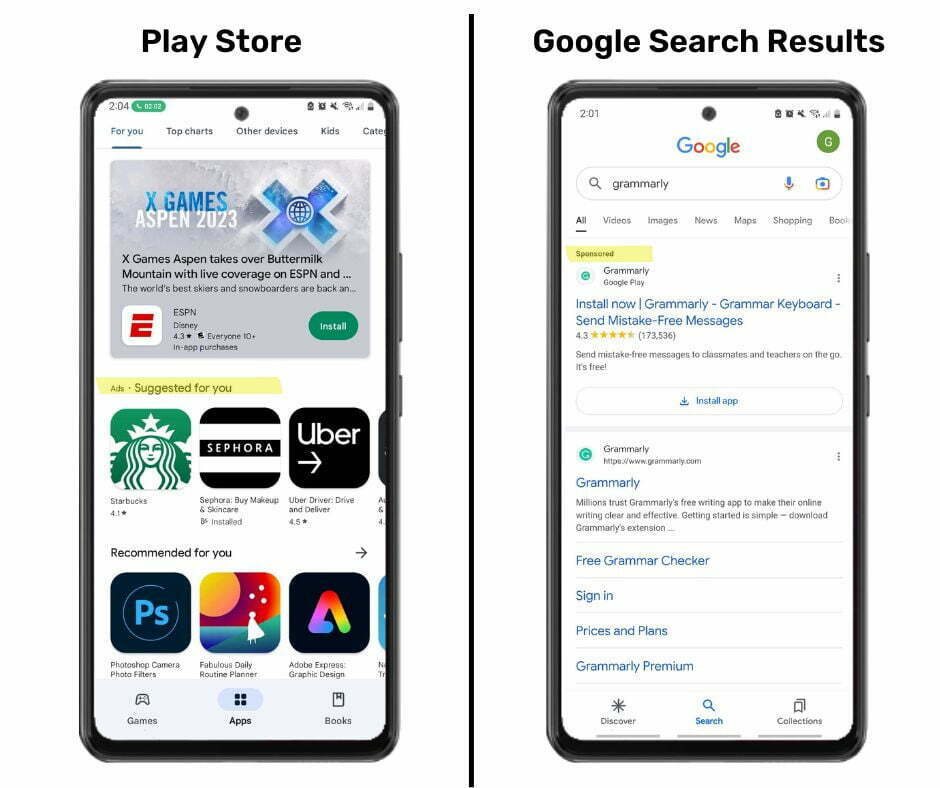 Google uses machine learning to optimize the campaign, this means that Google will automatically show the ads to the people who are more likely to install the app or perform the desired action, by using data such as device type, location, and browsing history.
They are particularly useful for apps that offer a unique value proposition and are looking to reach a large audience with minimal setup and management effort.
Smart Campaigns
Designed for people with little to no knowledge of Google Ads. As previously mentioned, since 2018, Google is trying to simplify the advertising process, and allow small business owners or novice advertisers to run ads in a simple way.
Smart campaigns are best for new advertisers or small business owners who want to keep marketing costs low and run ads themselves but there is a caveat. Smart campaigns allow you to set up a search campaign with search themes in as little as 15 min. The setup is easy and straightforward. They don't require a lot of input from you. Google takes care of ad placement, keyword targeting, audiences and even budget allocation.
While this sounds amazing since "Google knows best", this is not always the case. Google doesn't know your business best nor have a better understanding of your target clients. With a smart campaign, you have less control over the ads targeting and less room for optimizations and ad tailoring. There is no detailed reporting or metrics, making it difficult to measure the performance of the campaign and further optimization.
Performance Max Campaigns
Launched in late 2021, Performance Max Campaigns are AI-driven. Performance Max campaigns utilize advanced machine learning and automation to optimize ad campaigns in real-time. These campaigns are designed to help businesses achieve their specific performance goals, such as increasing website conversions or driving phone calls. They use a combination of automated bidding strategies and behavioural data to find potential users who are most likely to convert.
They are goal-based campaigns that allow advertisers to access all Google Ads inventory (including YouTube, Display, Search, Discover, Gmail, and Maps). With Google taking all the heavy lifting, one of the main differences with Smart Campaigns is that you can provide audience signals to guide Google on who your target audience is and how they are most likely to behave. You can also provide inputs on what type of conversion is most valuable to you.
Audience signalling in Google Ads refers to the process of providing information about the desired audience for an ad campaign. Advertisers create custom audiences based on a combination of details such as demographics, interests, and behaviours, and past interaction with your business.
Note: audience signalling is not the same as audience targeting.
In a Performance max campaign, audience signals do not determine the actual targeting of an ad campaign. Instead, they are used as suggestions to help the algorithm make more accurate targeting decisions. In other words, while the algorithm may use audience signals to identify potential audiences, it may also target other relevant audiences that are not included in the signals, in order to maximize performance and meet campaign goals.
One of the disadvantages of Performance Max is that similar to a Smart Campaign, there is limited performance data available. While you are likely to see results and high conversion rate, insights on performance are limited.
Use them if you already have a few campaigns running, and your account already has data from which Google can work with. If you are new to Google Ads, we do not recommend starting with a Performance Max campaign.
Discovery Campaigns
Discovery campaigns are designed to reach people with highly engaging visuals who might not have heard of your brand or product yet, but that Google considers ready to discover and engage with your brand based on their search behaviours and customer intent data. While they might seem similar to Display Ads, with their visual ads, they differ based on the ads placement (only shown on Youtube, Gmail and Google Discovery App) and the ads format.
Discovery ads are designed to be more interactive. They allow for single-image and carousel ads. The beauty of discovery ads is that they can be tailored to your audience's interests, so potential clients are more likely to pay attention to them when browsing online. They're based on an user's search history and offer a sense of personalization.
The key takeaway of this article is that you don't need a large budget to get started or to win the race. A bigger budget will not always guarantee your success in Google Ads. Before increasing your account budget, make sure you have selected the right campaign for your marketing goals, and invest in optimizing your campaigns.
When used right, the return on investment is great! So the question is, are you doing it right? Have you chosen the right campaign for your marketing objectives?
If you already have a campaign, but you don't think it is performing, request a review from professionals. Let us help choose the right campaign to reach your marketing goals, increase your leads and maximize your ad's budget. Remember, sometimes DIYing it is not the best nor the most cost-effective way of doing things!