Five Social Media Marketing Tips
Social Media Marketing and branding is a topic that has been done to death.  Type these keywords into Google, and it returns literally thousands of blogs about the subject.  With all the information and advice on Social Media strategy out there, it's easy to become lost.  As a busy professional, you might not have the time necessary to dedicate hours to sifting through blog after blog in search of the best advice. The truth of the matter is, navigating your way through Social Media is easy, so don't stress about it.  We've got five simple tips to get you, the busy professional well on your way to navigating the somewhat murky Social Media Marketing waters.
Social Media Monotonization
Firstly, it's important to treat your Social Media assets as a single entity.  That is to say, while all of your Social Media platforms (Facebook, Twitter, Pinterest, etc.) exist separately, it is important to represent yourself or your brand consistently over all platforms.  This does not mean posting the same content to all of your social media platforms – doing this might actually be detrimental to what you are trying to create. What we mean is that it is important to choose your Social Media identity and stick with it.  Make sure your Social Media identity is qualitative, and accurately represents who you are, or what your brand is.  If you are a financial institution which relies heavily on trust, discretion and stability, perhaps a tongue in cheek twitter persona coupled with an Instagram full of adorable cat photos might not be the best fit, and probably wouldn't engage your clientele in the way you might intend.  If you are a well loved hockey team, however, and you are in the midst of experiencing a great season, a boisterous Twitter account (think back to last year and the L.A. Kings tweet after knocking the Canucks out in the first round of the playoffs), and a Facebook page full of photos of fans celebrating the clinching of the Stanley Cup would be a great way to encourage fan involvement.
 Create a Dialogue Versus a Monologue
Secondly, it is important to garner engagement.  Social Media platforms such as Twitter and Facebook are a unique way to connect with your clients, they provide a way to begin a dialogue.  Try to make sure that your posts are open ended and leave room for comment.  While the old adage "all press is good press" doesn't translate exactly to Social Media, the fact is that MOST press is good press – or better said, most engagement is good engagement. Instead of limiting what can be said on your Social Media platforms, think of yourself as a guide and influence the conversation.  Being heavy handed about what can be posted on your Facebook page is not the way to facilitate communication with your clients.  Remember that even negativity is an opportunity to excel, so don't worry too much about what might end up on your various sites, just be sure you are paying attention to it and respond appropriately.
 Turn That Customer's Frown Upside Down (then showcase it)
That leads to our third point.  Even experiencing adversity gives you or your brand a chance to shine.  Social Media platforms have provided a unique way for clients and consumers to comment on poor service or subpar products.  In many instances, when something goes wrong in a product or service based business, a client is left calling customer support numbers where they are left on hold for an unacceptable amount of time only to have their call answered by someone inexperienced, or too ill-tempered to deal with their questions or complaints in a manner that will leave your client satisfied.  All of these things culminate to the loss of a client. With Social Media, however, customers are able to take their questions or concerns to your easily accessible Facebook page or Twitter feed.  Not only that, but by providing your client with a prompt response, you are also able to showcase your exemplary customer service to other prospective clients, potentially increasing your business while engaging your clients and turning a poor client experience into a positive one.
 If You Don't Have Something Pertinent to Say, Its okay to Keep Quiet
Our fourth piece of advice is to make sure you are speaking when you have something to say.  While it is important to keep your posts consistent, and to make sure you have a voice that will be heard, clogging up your clients' Twitter feeds, or Facebook pages with useless comments is not the way to do it. Social Media is all about sharing, but if you have nothing to share, it's better to say nothing at all.  Think back to when Twitter was at its infancy, and no-one was completely positive of its usefulness.  Remember all the Tweets that went something like "I just brushed my teeth", or "I'm having green beans for dinner"?  Everyone has seen a lot of those and quite often it leads to quickly "unfollowing" the poster and forgetting about them.  Don't let that be you. With the insights tool available to measure engagement on your business' Facebook page, it is easy to see when you're posting too much, or not enough.  It's good to experiment with consistency and content, just make sure you are watching these measures of engagement to ensure you are not posting too much, or too little.
 Set a goal – measure your results – set another goal.
Finally, the goal of Social Media Marketing is, lets be honest here, to translate engagement into profit.  While it is important, and often fun, to engage your clients and customers on all Social Media platforms, it is to no avail if you are putting in the time necessary to prune your Social Media hedges, but not growing a lovely garden at the same time.  Before beginning any Social Media ventures, take a moment and set goals.  Decide what you want to do, and give yourself a time frame in which to do it. Once you've spent that time pruning your proverbial Social Media garden, it's time to investigate the results.  Evaluate where you are as compared to where you want to be, and make sure what you are putting in is moving you towards your goals.  Maybe it's time to try a different tact, or maybe you've reached the goals you have set for yourself, and it is time to set new goals.  Either way, measure input vs. output, and make sure the results are favourable (profitable) for you.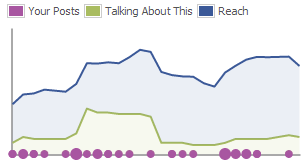 With all of that being said, and I know we promised you only five tidbits of information, there is one more thing to say: HAVE FUN!  If you're enjoying engaging with your customers in this new, and somewhat intimate sort of way, your customers are probably having a great time engaging with you!
Need social media marketing advice? Contact Guaranteed SEO
No matter what industry you work in, we have supplied hundreds of companies with new websites, social media campaigns and more. Some of our clients range from real estate agents to tour guides and lingerie companies. View our previous testimonials and experience what separates Guaranteed SEO from the competition. If you would rather just have a good old fashioned conversation – a social media for sure – then please call us at 1-866-588-8282, or just drop by for a cup of coffee!