[This blog post is part 2 of 5 in the webpage improvement series "5 Key Concepts That Will Convert Your Webpage into a Sales Machine!"]
Part Two: Writing An Effective Headline & Sales Pitch
Goal: Entice the visitor to continuing reading your page. Make them understand what your product is and how it can help them in 30 seconds or less.
Your headline is the first impression you make on a reader.  If it doesn't catch their attention instantly, you're toast.
The headline has only one purpose: to make the reader read onto the next line.
Yes, it should describe your product and convey your value proposition; but if it doesn't spark enough interest, then what good is it to you? You could spend weeks crafting the ultimate sales page, but without a solid headline no one would ever read it. That's why you should always set aside enough time to carefully craft your headline and sales pitch.
Now, let's get started by talking about what goes into the creation of a winning headline.
Constructing An Appealing Headline
Your headline is your first chance to catch the reader's attention and convey your unique selling proposition (USP). Use it wisely! When building your headline and supporting text, you have two options:
1. Make a very clear statement about what your product is and who it's for
OR
2. Entice your visitor into reading more.
The latter can be done by raising an interesting question, using humour, or by stating something on the contrary to popular opinion.
At this point, you have to make a judgement call. Which option will you choose: number one or number two? In part, this decision will be based on company branding and the "personality" you want to portray. Are you going to be straight forward or mysterious? Serious or funny? It's all up to you. Once you make your decision, it's time to get brainstorming.
 3 Strategies For Brainstorming Powerful Headlines
A great way to start building your headlines is by categorizing them in three ways:
1. The Benefit Headline – Focuses on the user benefit above all else.
Example: "How to Write a Sales Page in 20 Minutes"
Pros: The main benefit is immediately obvious Cons: There's a chance the reader might not connect the benefit to their pain point
2. The Loss Aversion Headline – Highlights the user's pain point.
Example: "Stop Wasting Time Copywriting"
Pros: Appealing to ones fear or paint point can be very convincing Cons: The reader often has to mentally translate the headline into a tangible benefit
3. The Question Headline – Draws the reader in by speaking to their curiosity.
Example: "Tired of Wasting Time Writing Sales Copy?"
Pros: People often search for information with a question in mind. If your question closely matches a reader's problem, they are likely to continue reading. Cons: People usually search for solutions. If a headline poses a question instead of an answer, it is still unclear if the answer will be sufficiently offered in the text of the webpage.
According to Michael Aagaard, the self-professed "split test junkie", benefit headlines often outperform the other two categories. This makes sense as benefit headlines provide the reader with an upfront understanding of the information they're going to get. Think about benefit headlines as an instant ROI indicator: If the reader knows what the benefit is upfront, they can judge if your webpage is worth their time investment.
Let's Put This Headline Theory Into Practice
If we were going to re-write the headline for this blog post, we could start brainstorming ideas like so: Benefit Headline "Headline Writing Tips That Will Boost Your Sales" "7 Copywriting Tips that Will Increase Your Conversion Rate" Loss Aversion Headline "Avoid Losing Customers with Poor Copywriting" "Stop Killing Your Sales with Bad Copywriting" Question Headline "Need Help Writing your Sales Headline?" "Worried That You Can't Write a Quality Sales Pitch?"
After coming up with a list of top choices, we would then have to run a series of A/B tests to see which title performed best with visitors.
For a rundown on some of Michael Aagaard's study results relating to benefit headlines, aversion headlines and question headlines, see the article: 5 Landing Page Headline Formulas Tested.
Now that you know how to come up with a powerful headline, we'll move onto the next step: writing your sales pitch.
Writing A Winning Sales Pitch
When someone lands on your page, they are trying to find out one thing: Will this product help solve my problem?
Below are 4 tips to help you answer this question quickly while holding the visitor's attention:
Use clear, concise copywriting to showcase why someone should choose you over your competitors. Cut the fluff – it's easy to see when you're trying to make a product sound better than it is.
Have a personality and try using a bit of humour. Being too "professional" could come off boring causing your reader's attention to wonder. At the very least try being quirky—make your page interesting to read.
Avoid jargon, complicated expressions, and overly long explanations. Save the reader time: Say it quickly, say it simply. One exception to this is the long form sales page.
Frame your message in terms of customer benefits. Speak to the reader's pain points and avoid babbling about yourself. Readers care about how you can help them—not how special you think you are.
A Headline & Sales Pitch Critique
It's no surprise that the web is littered with millions of examples of poorly made sales pages. Instead of going through them and showing you what not to do, I'd like to focus the last part of this post on an example of a great landing page.
In the following example, I'll take you through a step-by-step critique of the Tapstream homepage to demonstrate the use of a good headline and sales pitch.
Before reading the critique, I highly encourage you to test this page out yourself. See if you can figure out what this company does and what the product benefit is in 30 seconds or less!
The Headline
In the image below, you can see that the headline does a great job at highlighting two main benefits. Right away you know what you're getting: A free system that tracks app downloads. Second, the supporting text, "Tapstream is a free, comprehensive marketing dashboard that attributes every download of your app," elaborates on the headline making the product benefit even more clear.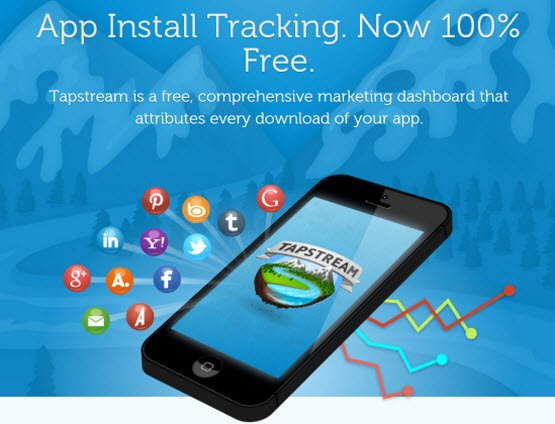 The Sales Pitch
Following the banner with the headline, the page displays a simple 1,2,3 list outlining the core benefits of the analytics system. This is a clear and concise way of giving the reader the most useful information so that they can make an informed purchase decision. Notice how they follow up with a CTA right after the core benefits section. It's always a good idea to "check in" and see if the reader is ready to buy (or at least sign up for a trial!).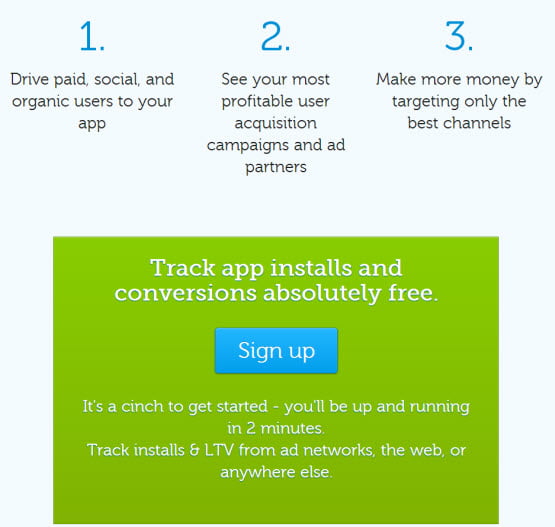 Once Tapstream starts to get a little deeper into the details of how their system works, they begin using effective subheadings that highlight the products important features. The write ups are short and to the point as they describe the system just enough to spark the reader's interest. Once that's done, they offer two calls to action with very useful supporting text:
"See Inside" – Get a demo of how the product works
"Start Now" – Get started in 2 minutes + no data limits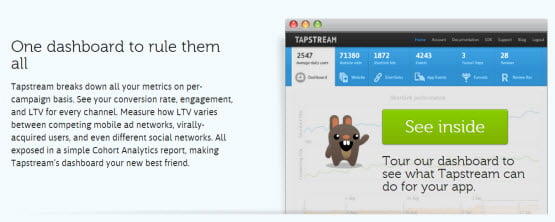 All in all, Tapstream has done a great job at walking the reader through their value proposition and product features. If you've never written a sales page before, this is a solid template to follow when getting started.
Conclusion
Now that you have a good grasp on how to formulate effective headlines and write a sales pitch that will convert, it's time for you to apply these tips to your own sales page. As you do so, remember to focus on how you can help the customer. Avoid speaking about yourself too much. That's a good way to bore your customer and get them bouncing off your site. Now the next step is to build your customer's trust by using social proof. Check out the next post in our series for 7 Ways To Implement Social Proof on Your Sales Page.
P.S. If you happened to miss our first post on optimizing page layouts for higher conversion rates, you can read it here: 6 Web Design Tips To Focus Your Customer's Attention
Need help creating a powerful and impactful webpage? Guaranteed SEO can guide you through the website redesign process. Please give us a call at

1-866-588-8282

or fill in our request form and we will contact you.