Outdated Website Design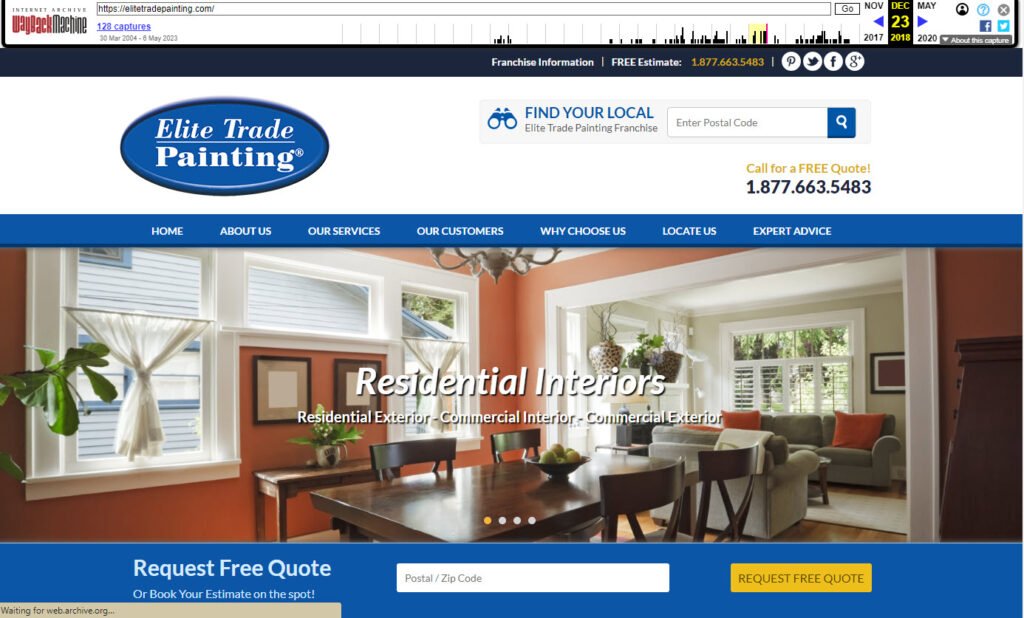 Elite Trade Painting faced the challenge of having an outdated website design that didn't reflect their brand image or keep up with modern web design trends. This made it difficult for them to stand out among competitors who had more visually appealing and user-friendly websites. Elite Trade Painting needed a website that could effectively compete in terms of design and user experience. They recognized the importance of creating a positive first impression on potential clients who often research and compare different painting service providers online.
User Experience and Navigation
Due to the old layout, Elite Trade Painting had navigation issues and broken links which often created challenges for visitors to find the information they needed quickly. They needed a website that was easy to navigate, with clear and intuitive menus, ensuring that potential clients could easily explore their services and find the information they were looking for.

To address the obstacles and meet the client's requirements our approach for Elite Trade Painting's new website development project included the following steps:
Conducted Extensive Research and Analysis
We conducted thorough research on the painting industry, competitors, and current web design trends. This analysis helped us identify design elements, features, and functionalities that would give Elite Trade Painting a competitive edge.
Engaged in a Collaborative Design Process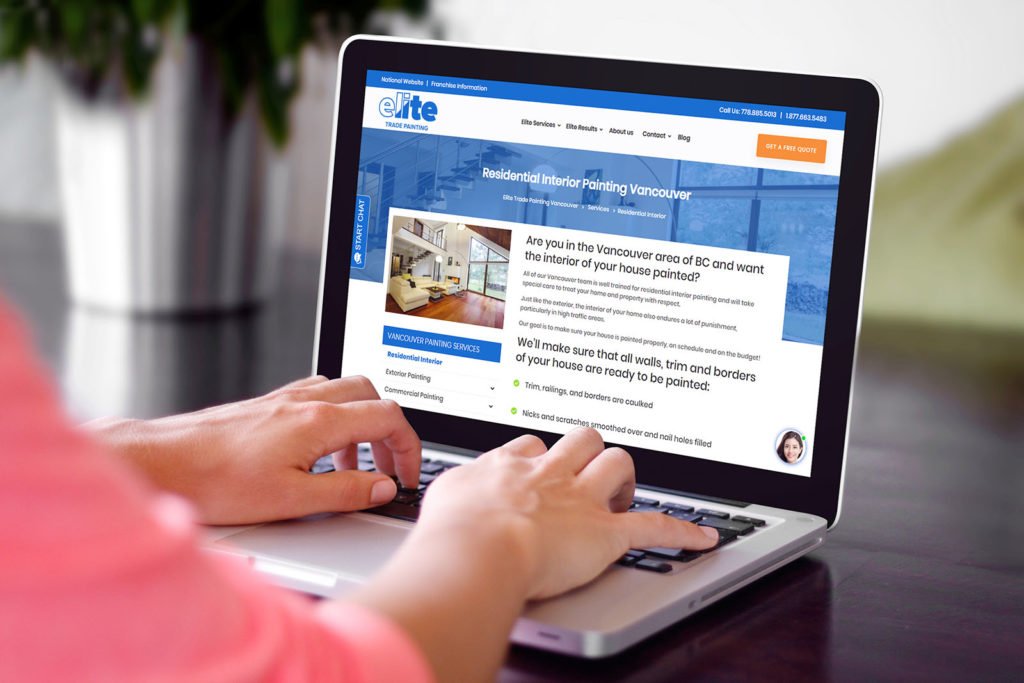 We collaborated closely with the client, involving multiple design iterations and feedback sessions. By understanding their brand identity, preferences, and desired modern look, we created design concepts that aligned with Elite Trade Painting's vision and communicated professionalism and expertise.
Focused on User-Centered Design and Navigation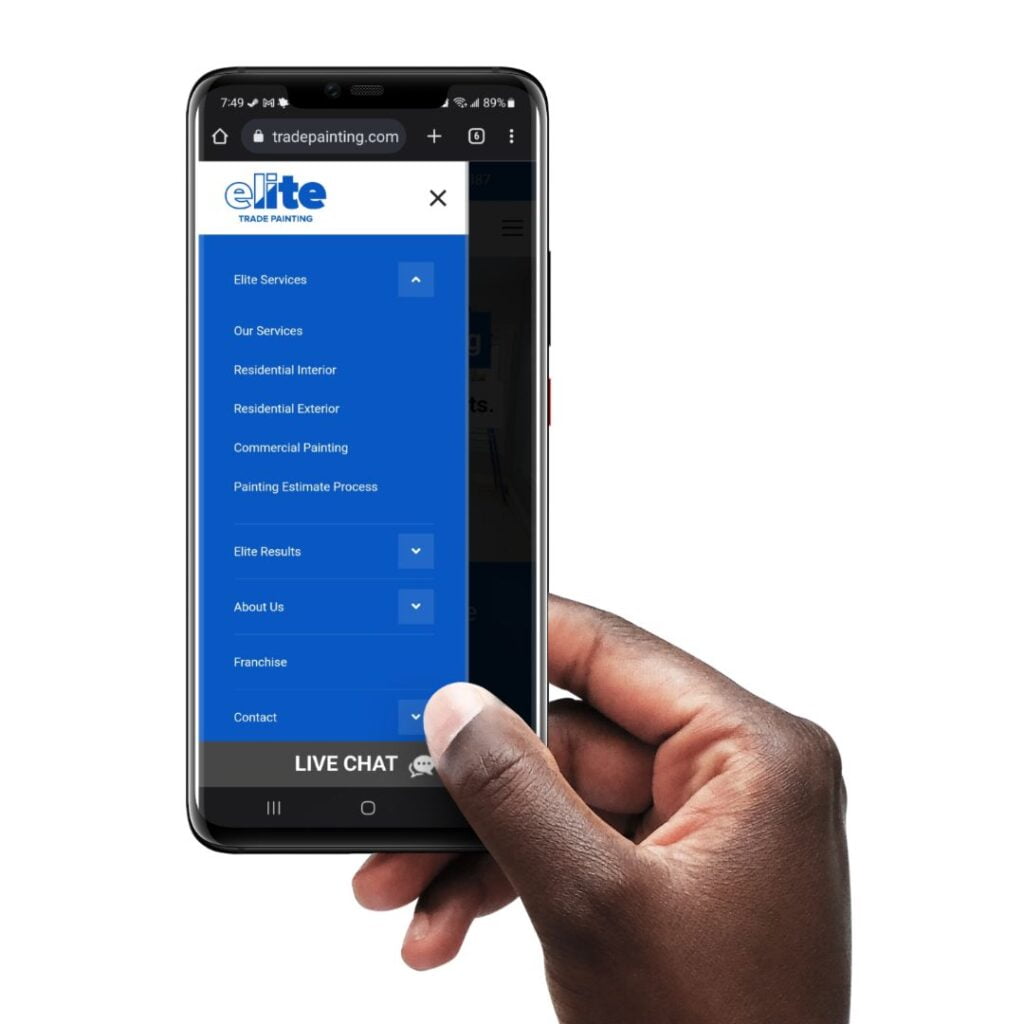 Keeping user experience at the forefront, we ensured that the website's navigation was intuitive and user-friendly. We implemented clear and well-structured menus, logical information architecture, and prominent calls-to-action to guide visitors to relevant sections, encouraging engagement and conversions.
Responsive Web Design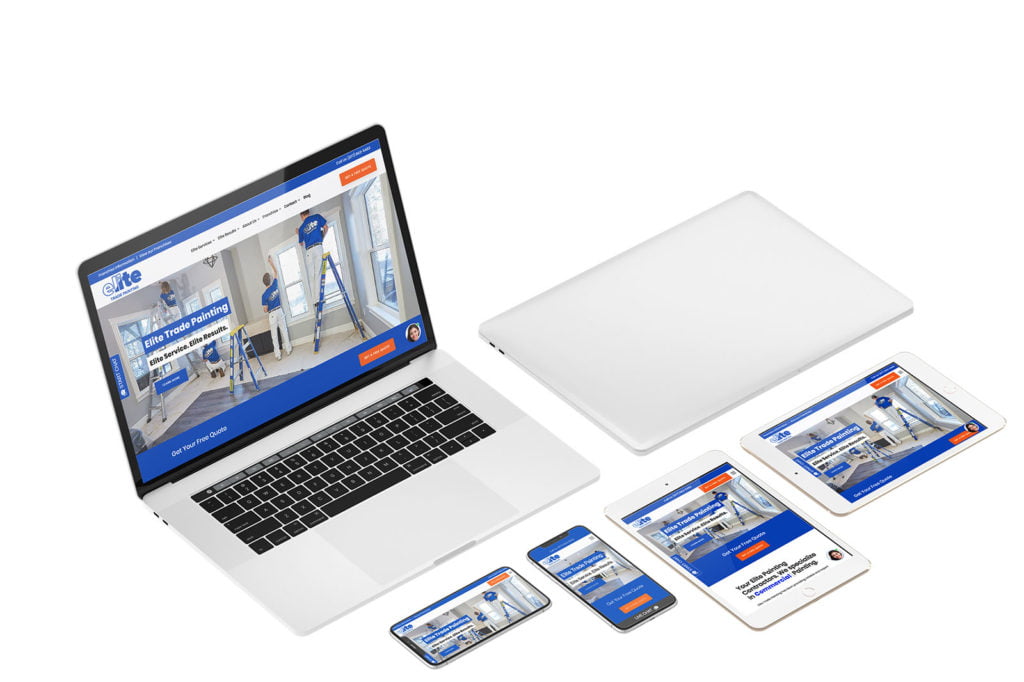 Recognizing the significance of mobile browsing, we implemented responsive web design techniques. This ensured that the website adapted seamlessly to different screen sizes and devices, providing an optimal viewing experience for users on smartphones, tablets, and desktop computers.
Created Engaging Landing Page Designs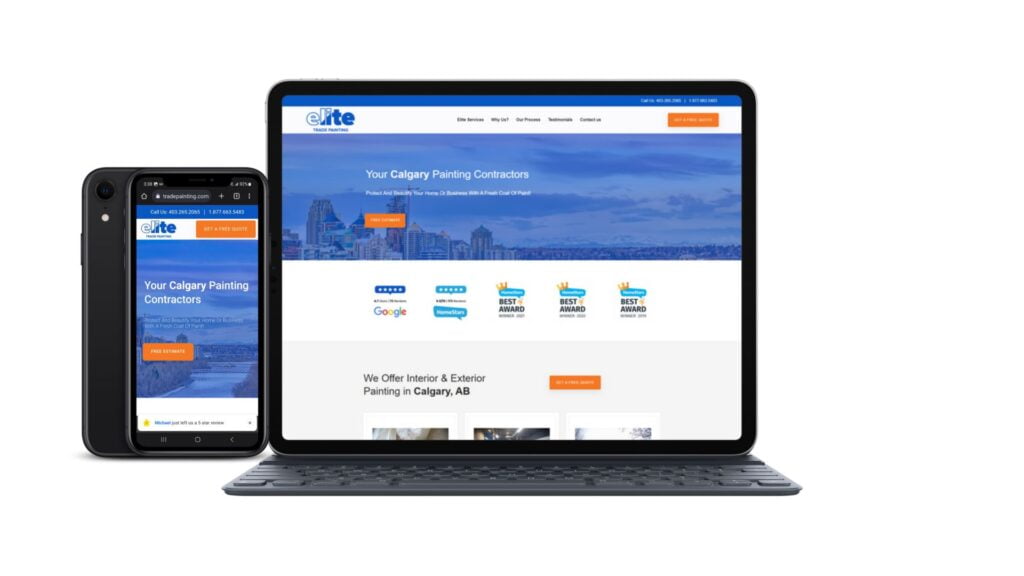 We created captivating landing pages for specific marketing campaigns or promotions. By incorporating persuasive elements such as compelling headlines, customer testimonials, awards, and highlighted projects, we created an immersive experience that drove conversions and captured leads.
Showcased Projects Effectively
We designed a project section that highlighted Elite Trade Painting's past work and showcased their expertise. High-resolution images, detailed project descriptions, and client testimonials were included to inspire confidence in potential clients.
Ensured Brand Consistency and Visual Identity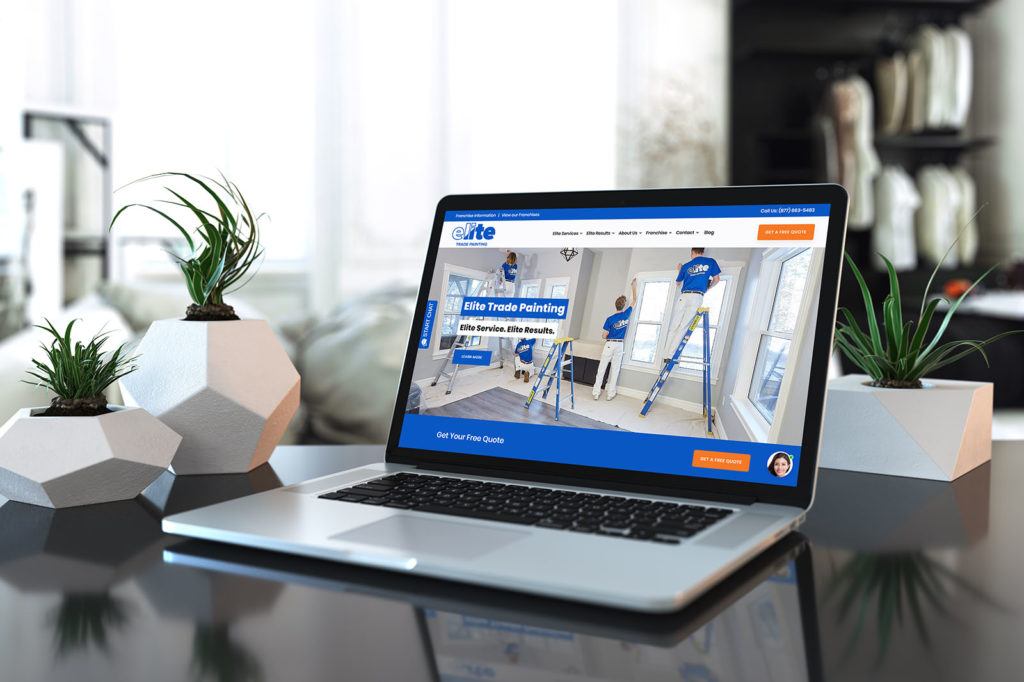 We maintained brand consistency by ensuring that the website's design elements, colour schemes, logos, and typography aligned with Elite Trade Painting's established brand identity. This cohesive visual identity reinforced their professionalism and made a lasting impression on visitors.
Optimized for SEO
We ensured that both the main website and each franchise location were following SEO best practices, aiming to help Elite Trade Painting attract organic traffic and generate valuable leads.
Thanks to the implementation of the new website, combined with our SEO and content strategy Elite Trade Painting experienced significant improvements in their online presence and traffic. A comparison of two periods – 12 months after the website launch versus 12 months before the launch – revealed the following results: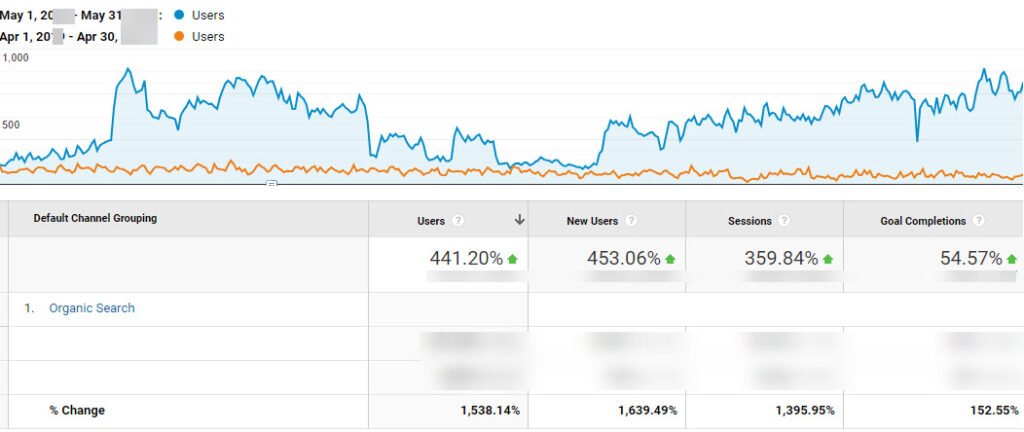 The overall traffic to Elite Trade Painting's website witnessed a substantial surge of 400%. This growth can be attributed to the enhanced website design, improved user experience, and more effective implementation of SEO strategies.
Impressive Boost in Organic Traffic
The implementation of SEO best practices and content strategies yielded exceptional results, leading to a remarkable increase in organic traffic by over 1,500%. This significant surge in organic traffic demonstrated the successful optimization of the website to rank higher in search engine results.
Enhanced Conversion Tracking
Through the implementation of cross-domain tracking, Elite Trade Painting was able to record conversions at both the global and franchise level. As a result, the number of conversions experienced a substantial increase of over 50% when comparing the same period of time.
Improved Visibility for Global and Local Franchisees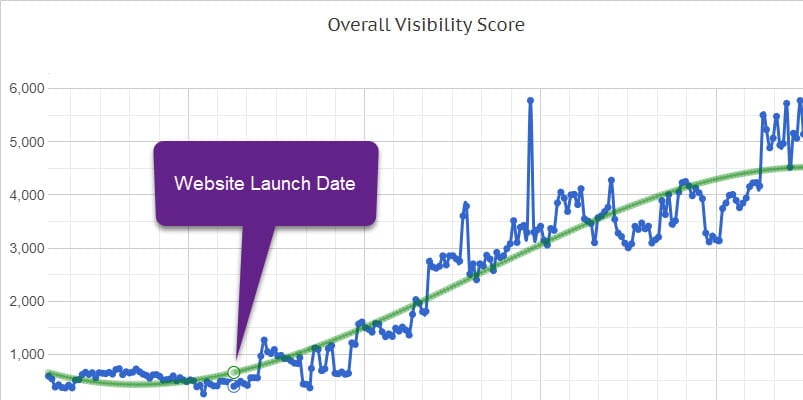 The combined efforts of the new website and our SEO strategies resulted in improved visibility not only for the main global site but also for individual franchisees. This meant that both the global brand and the local franchisees received increased exposure and attracted a larger audience, ultimately leading to more potential customers and business growth.
These results demonstrated the effectiveness of our approach, highlighting the positive impact of the new website, SEO strategies, and content efforts on Elite Trade Painting's online performance. By focusing on optimizing the website for search engines, delivering valuable content, and improving user experience, we were able to achieve substantial growth in traffic, conversions, and visibility for both the global brand and individual franchisees.