Mayfair Hotels & Resorts was running two Google Ad campaigns targeting different geographic locations: Vancouver & Victoria. Each of those campaigns were targeting all the hotels in that area which were owned by Mayfair. PPC ads were then directing people to www.mayfairhotelsandresorts.com which is a "catch-all" site that shows Mayfair's ownership of each individual hotel.
On the Mayfair Hotels & Resorts homepage, there was a phone # for reservations. If a visitor wanted to book a room without calling, they had to make 2 additional clicks before they could find the booking engine to check availability. Upon landing on www.mayfairhotelsandresorts.com, visitors were given a list of hotels to choose from. To check availability, they would then have to click through to the specific hotel they wanted to stay at and then click "book now" before getting sent to the booking engine.
Because visitors had to jump through so many hoops to book online, PPC conversions were very low and the campaign was not generating the kind of results the company needed.  A restructured PPC campaign with appropriate landing pages containing the direct booking links the visitor was expecting to see was required.
Guaranteed SEO reorganized the AdWords campaign so that each hotel under Mayfair could run its own Search Network campaign with its own budget. This allowed for more accurate keyword targeting, bid control, and conversion tracking.
What's more, is that the overall user experience was greatly improved now that a visitor could click an ad for a specific hotel and then get taken to the corresponding hotel website instead of being surprised by landing on another website which seemed unrelated to the PPC ad (mayfairhotelsandresorts.com). All in all, this eliminated a lot of confusion and boosted the conversion rate significantly.
Results Prior To Guaranteed SEO Set-Up: Month Of October
Clicks: 1,075
Check Availability Conversions: 24
Conversion Rate: 2.39%
Cost/Conversion: $156.88


Prior to Guaranteed SEO taking over the PPC management, the results were marginal at best.
November Results With New Adwords Set Up
Description of results: Month of November – 1st month after Guaranteed SEO starts managing the account
Spent 36% less budget than October and boosted the # of conversions by 1,058%! Cost per conversion dropped by 94%.
Monthly Spend: 64% of October
Clicks: 1,621
Check Availability Conversions: 278
Conversion Rate: 18.03%
Cost/Conversion: Approximately 1/20th of cost for October!
Results For The Month Of December
In December the monthly budget was increased by 60% compared to November. This resulted in a proportionate increase in conversions (up 60.4%). Cost/conversion also remained low coming in at slightly under November figures.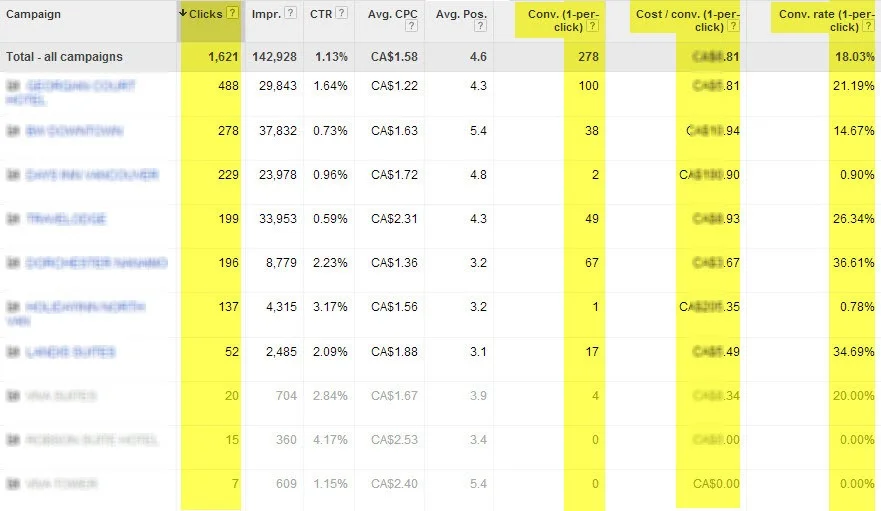 Immediately following the Guaranteed SEO optimization, the PPC campaign the improvement was dramatic
Monthly Spend: Approximately the same as October
Clicks: 2,227
Check Availability Conversions: 446
Conversion Rate: 21.3%
Cost/Conversion: Approximately 1/20th of cost for October!
Once the changes had been made the results quickly became such that advertising via PPC became a cost justifiable option for the client, and provided a significant ROI in terms of room revenue versus PPC costs.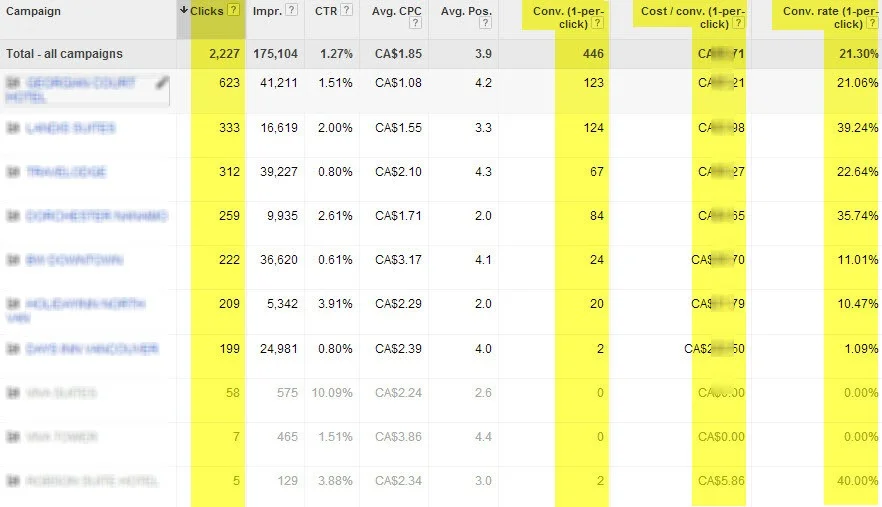 Consistently better results with improvements were observed going forward into 2014.
Secondary Benefit Of The New AdWords Set-Up:
Now that each hotel runs its own monthly AdWords budget, it is also easier for Mayfair to split up the PPC campaign spend and bill the various hotels accordingly.
Are you interested in getting more leads and sales on your website? Check out our PPC Services for your, or simply get a free consultation with a consultant.