15 Royal Terrace is a great medispa in Glasgow where you can relax take a break. One of the client's biggest problems with the old website was mobile traffic which was desperately low. Only 1.62% of all visits were from mobile devices (January 2015 – June 2015). That was not acceptable, nor reflective of the reality of their market. The client had been losing a large number of potential customers and it was a great opportunity for to grow their business.
A further factor that drove the urgency of building a new website occurred on February 26, 2015 when Google announced that starting April 21, they would be expanding their use of mobile-friendliness as a ranking signal.
Update: An importance of having mobile-friendly website was amplified by Amit Singhal, senior vice president of Google Search, he said at Re/code's Code/Mobile conference (October 2015) that Google gets over 100 billion searches a month and more than half of those searches are coming from mobile devices (video).
We have built a new responsive website and have been doing ongoing SEO optimization. The new website was launched on June 30, 2015.
We immediately started with keyword research in order to find new opportunities to target and build a new web structure. Once the structure was defined, the design and development process begun.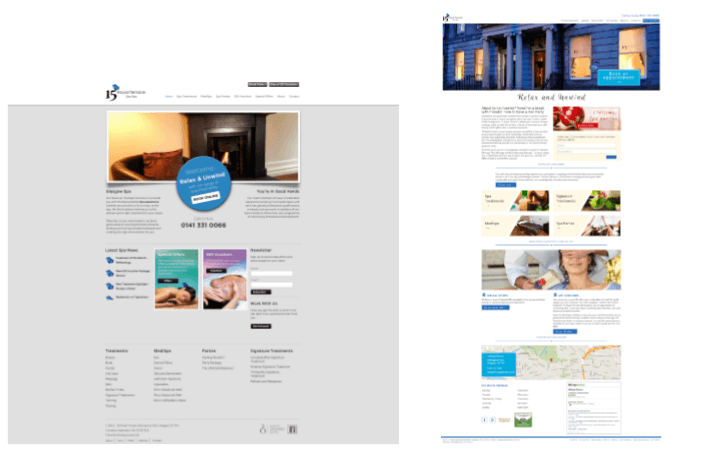 The new website had an immediate impact on the mobile search and started ranking on the top positions in the Google mobile search.


Since the launch (June 30 – Dec 31), over 45% of all visits have been from mobile devices.
The new responsive website, the better structure of the website and ongoing SEO resulted in an increase in organic traffic by 55.12% in comparison to the same period last year.
If we compare only organic traffic from mobile devices, we can see an increase by 7,393.75% in the first 30 days after the launch.

Organic traffic (June 30, 2015 – December 31, 2015 vs. June 30, 2014 – December 31, 2014)
This is not the end of the story. The client understood the power of multi-channel marketing strategy and added social marketing and email marketing into his portfolio of marketing activities. The new channels kicked the numbers even higher.
There was a remarkable increase of all visits by 130.16% as well as conversions when compared to the same period last year.

All traffic (June 30, 2015 – December 31, 2015 vs. June 30, 2014 – December 31, 2014
Launching a new responsive website and multichannel marketing increased the total number of visits by 130.16% in comparison to the same period last year.
The client's note
We were extremely happy with the website produced by GSEO. The team working on the assignment were knowledgeable, responded to questions quickly and had many practical suggestions in terms of improving both functionality and appearance of our new site.
Shortly after the new website was launched, we ran a customer survey on all aspects of our services and took the opportunity to ask specific questions about their perception of the new site. Ease of use and clear presentation ranked highly in the responses, in addition, the website scored very high in terms of customers prepared to book treatments online and purchase gift certificates through the website.
We are very happy that the new site has not only improved our profile but is also improving the potential for online transactions too.
Iain Wallace – 15 Royal Terrace, Glasgow