If you own or operate a paving company, then you know that competition in the industry can be tough. Standing out from the crowd is essential to getting new clients and keeping existing ones happy. One way to do this is by making sure your website is optimized for search engines. This process, called search engine optimization (SEO), can help your website appear higher on search engine results pages (SERPs), making it more likely that potential customers will find you online.
But what exactly is SEO, and how can you go about doing it? Keep reading to find out.
What is SEO for paving companies?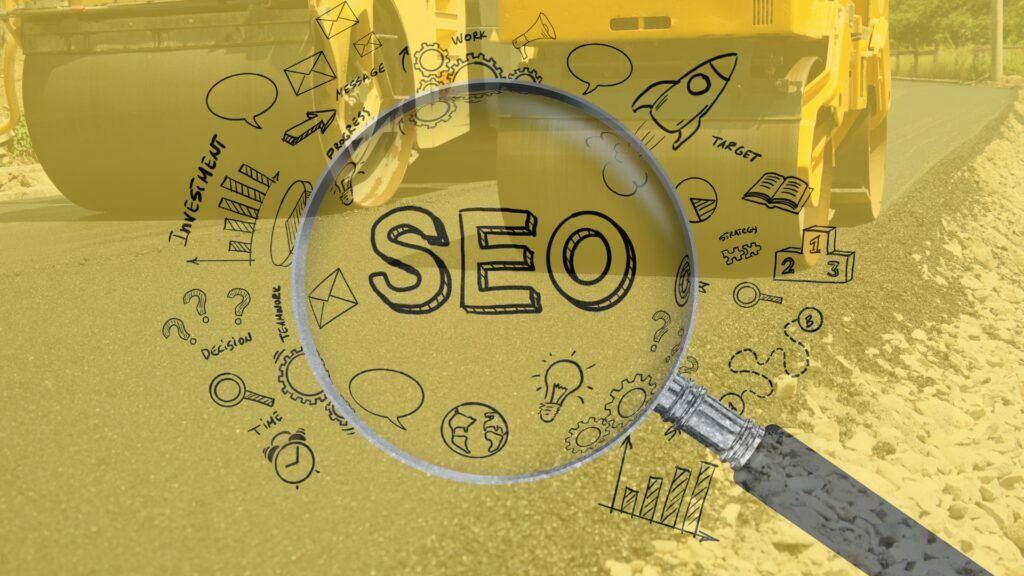 SEO is the process of improving the visibility and ranking of a website or web page in search engine results pages. This is done by optimizing the website's content, structure, and on-page elements like titles, metatags, and anchor text, as well as developing off-page SEO tactics like link building and content marketing.
Why is SEO important for pavement companies?
The answer is simple: the higher your website ranks in SERPs, the more likely people are to find you online. Conversely, if people can't find you online, they are less likely to hire you for their paving needs.
Furthermore, many studies have shown that people are more likely to click on a result that appears on the first page of SERPs than one that appears on later pages. So not only does good SEO help people find your website in the first place, but it also helps you get more clicks once they do find you.
How can I optimize my paving company's website for SEO?
There are a number of things you can do to optimize your pavement company's website for SEO. Here are just a few:
Target the Right Keywords and use Long tail Keywords
Conduct keyword research to identify which keywords or phrases potential customers are using when searching for a company like yours, and then incorporate those keywords into your website's content. Any business that wants to succeed online needs to invest in SEO. This is especially true for paving companies, who need to make sure they appear prominently in search results for relevant keywords. Targeting the right keywords is essential to the success of your SEO strategy.
In general, you should focus on long-tail keywords or those that are several words long. These keywords are more specific, which means they're less competitive and more likely to result in conversions. For example, rather than targeting the keyword "paving," you could target the keyword "paving services west vancouver." By focusing on long-tail keywords, you'll be able to improve your SEO and attract more leads.
Improve Page Speed
For paving companies using SEO for generating leads and boosting sales, one important factor to consider is page speed. No one wants to wait forever for a website to load, and if your site has slow page load speeds, you're likely to lose potential customers. Google will pick up on the number of people bouncing from your site and assume your website isn't relevant or doesn't provide a good experience. As a result, you'll be ranked lower in search results.
To keep your rankings high and your visitors happy, make sure your pages load quickly. There are a number of ways to do this, such as optimizing images and using a content delivery network. By taking these steps, you can improve your SEO and ensure that your paving company website is visible to potential customers.
Image Optimization
While SEO for paving companies will do the most for your website ranking, the images on your site can contribute too. To start with, you can compress your image files to help your pages load faster. You can also optimize your images by using alt tags.
Alt tags are short, descriptive blurbs attached to images. When you use them, it allows Google's algorithms to tell what content the images show. Since Google can now "read" the images, these tags can contribute to your rankings.
Furthermore, people with visual impairment who use screen readers will be able to tell what the images show, improving your site's user experience. Consequently, it is important to make sure that not only the text on your website is SEO friendly but also the pictures have written descriptions. Attractive high-quality images are a key part of SEO for paving companies and should not be overlooked if you want to improve your website ranking.
Evergreen Content
Develop high-quality content that provides value to your readers and includes relevant keywords. When it comes to SEO for paving companies, web content is vital. After all, without content, you won't have anything to rank. That's why it's important to make sure your content is evergreen.
Evergreen content focuses on topics that remain relevant over time. That means avoiding any dated topics. Instead, focus on topics that will be just as relevant a year from now as they are today. This will help ensure that your content drives traffic to your site for years to come.
Backlinks
Another way to improve SEO is through backlinks. Backlinks are links from other websites that link back to your website. Backlinks help to improve SEO by increasing the number of links to your website, which helps to improve your website's PageRank. In addition, backlinks provide paving companies with an opportunity to improve their website's visibility and build relationships with other websites. By building backlinks, paving companies can improve their SEO and increase their chances of being found by potential customers.
There are a number of ways to earn high-quality backlinks, such as guest blogging, writing testimonials, or creating helpful resources. By taking the time to earn backlinks, you can signal to Google that your business is reputable and trustworthy, which will help you rank higher in search results.
Google Business Profile
Google My Business is a free marketing tool that allows businesses to manage their online presence across Google Search and Maps. Listings include vital information such as your company name, address, phone number, and hours of operation. They also give you the opportunity to showcase your products and services, post photos and videos, and respond to customer reviews.
For paving companies, a Google My Business listing is essential for helping potential customers find your business when they're searching for paving services in their area. In addition, GMB listings provide an easy way for customers to get in touch with you or leave a review after their experience. With so much potential traffic coming from Google, not having a listing could mean missing out on hundreds or even thousands of potential leads. Investing the time to set up and manage your Google My Business listing is well worth it for any paving company looking to reach new customers and grow their business.
Responsiveness
Make sure your website is responsive (i.e., mobile-friendly) since more people now use mobile devices than desktop computers to access the internet. Paving companies that want to improve their website ranking should consider using responsive design. With over 50% of Internet traffic coming from mobile devices, it's important to have a site that looks good on both desktop and mobile.
Google uses a mobile-first index, so sites that aren't mobile-friendly will be penalized in the search results. Responsive design ensures that your site loads quickly and looks great on all devices, giving you the best chance to rank highly in the search results. Using responsive design is the best way to improve your website ranking and create a better user experience. Don't lose out on half your traffic by ignoring mobile users; make sure your site is optimized for all devices.
If you're looking to take your paving company's website to the next level, SEO is a must. By following the tips we outlined above, you can help improve your ranking in SERPs, get more clicks once people find your website, and ultimately grow your business.
Need some help with your SEO? GuaranteedSEO has your back!
We are experts in search engine optimization and can help get your website where it needs to be to attract new clients and keep existing ones happy. Contact us today for a free consultation!