No matter what industry you work in or the size of your company, reputation management should be a central part of your online efforts. Millions of people use the internet to discover and research businesses before they decide where to invest their money. In part one of our guide, we spoke briefly about the basics of reputation management and why it is important. This week we will be covering practical steps you can take to protect and monitor your online image. First off, let's start with the positive but often over looked things you can do!
Ask for testimonials
Positive feedback from happy customers can be used as a very convincing form of marketing.  You should post testimonials on your company page as well as on social media to show potential clients how people respond to your service. Although it may seem difficult to acquire these testimonials, all you need to do is ask and most people will be happy to oblige. Make sure you inform them you would like to post their comments online and don't expect a two page essay. A brief paragraph should do fine, a letter or note on their letterhead is awesome. You can also send out an automatic survey to previous clients for some useful feedback. Ask them a few important questions such as: How did you find out about our service? Would you use it again? Do you have any recommendations for ways we can improve our product? Take responses seriously and if you notice any patterns in negative feedback, you can use these comments as constructive criticism.
Check online reviews
Depending on what industry you work in, there's usually a website dedicated to reviewing your company's product. Are you a restaurant or small local business? Then search Yelp. Do you work in the hospitality industry? Check Trip Advisor or Hostelworld. A quick Google search should come up with the right website for your field. You should regularly check these websites and respond to reviews, if they allow it. Thank people for their comments and as we said earlier, share positive feedback as a form of marketing. You should also show other people you care about your customers and neutralize negative feedback by acknowledging their complaints.
Build online relationships
We've covered link-building before in this blog here and also here. Essentially if you make friends with someone who has an authoritative online presence, they can tell everyone about how great you are and direct traffic toward you. Getting mentions from a popular website will boost your reputation, increase your views and push any negative reviews further down. Don't underestimate the value of social media either, many businesses have been successful due to word of mouth. This brings us to our next point…
Communicate directly with customers on social media
There's nothing worse than companies which post an influx of one-dimensional advertising updates instead of interacting with people. By only using social media to spam everyone with information about your company, you are missing out on a great opportunity. Social media is made to be social! Take the time to engage others and you can mould the way people perceive you as well as being able to connect with a vast potential audience. Social media can be a great form of PR and many businesses humanize their brand by being witty and creative. Post deals or competitions, retweet other people, share unique content, allow people to see the inner workings of your company, highlight a funny work story or talk about an interesting staff member. You can also use social media to respond immediately to any complaints or praise in the public eye and show how you treat your customers. By frequently interacting with others, you can build a loyal following and help people to see you as something more than just another brand. Many people will consider your social media account as an authority on your views and company values so make sure you take it seriously.
Set up a Google Alert
By entering keywords, you can set up a Google Alert to inform you via email every time something is said about you online. You can adjust the settings so will be updated as often as you like, whether it is immediately or just once a week. The tool also gives you a preview of what results your keywords will uncover. It's important to choose something specifically relevant to your company so that you aren't needlessly updated every time someone says something vaguely relevant.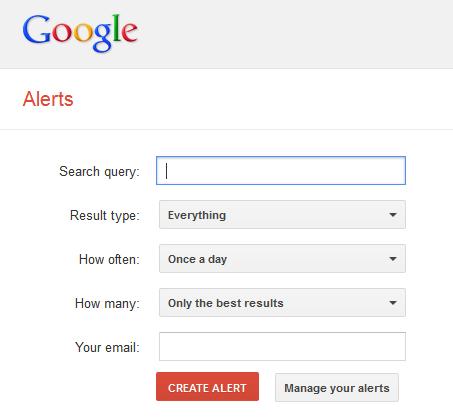 Clean up your online presence
Have you ever Googled yourself or your company? You might be surprised be what you find. Make sure you regularly search your brand to see what other people discover when they type your name into a search engine. If possible you should remove any content which has been posted that is unprofessional or can harm your company's image. If it can't be removed, use your SEO skills to push the negative content further down in the results so it's not on the first few pages. You can do this by creating new content or signing up for social media accounts. These will force other material away from the first page as they gain more views. This can be time consuming and Google may take a while to reindex your search results, but it's a worthwhile process if image is important to you. You can also request Google to remove content as long as you have a legitimate reason for doing so or the material belongs to you. Don't waste your time trying to remove negative feedback or reviews though as they won't allow it and may consider it unethical; instead follow our earlier suggestion and focus on an adequate response.
Want further help with your reputation management?
Contact our friendly team at Guaranteed SEO if you need someone to manage your online presence. We work with a range of international clients in various industries to ensure their social media and websites are optimized to the highest standard. You can learn more about our company here and read our list of services too.